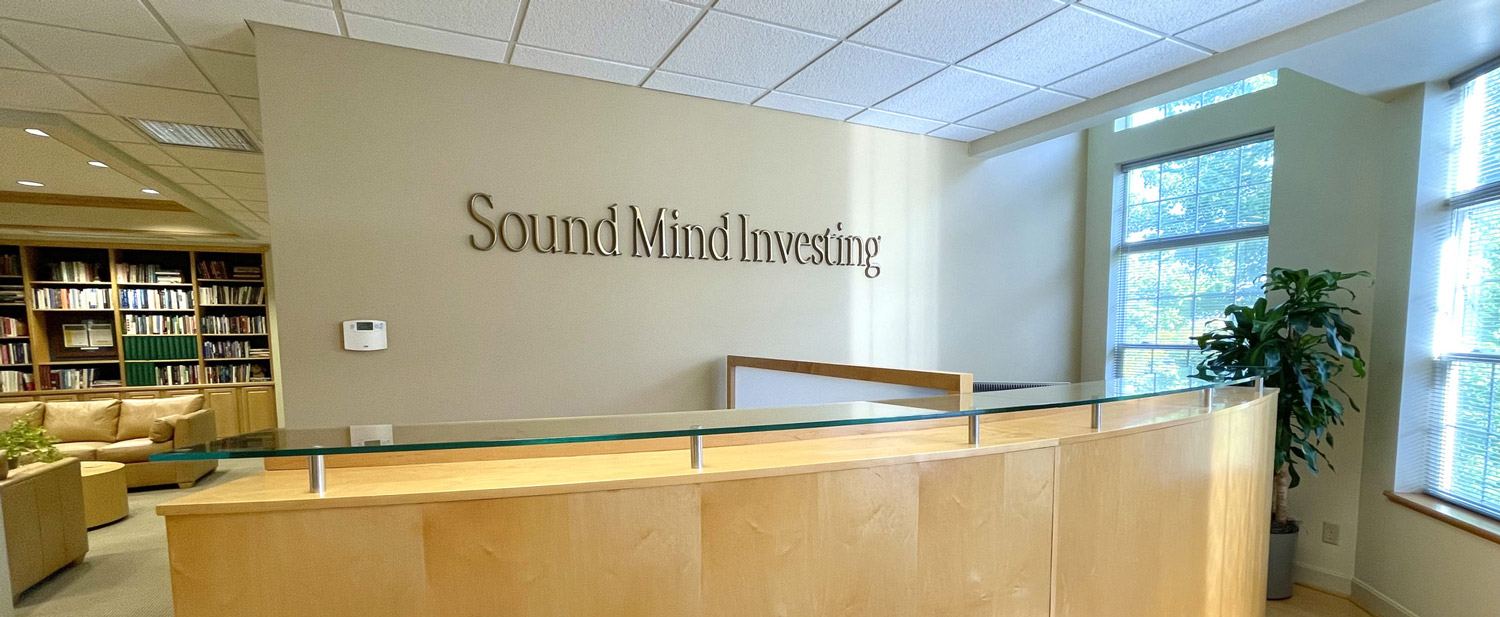 About Sound Mind Investing
About Sound Mind Investing
We take the fear out of investing with objective, proven strategies that do-it-yourself investors can implement with confidence.
Investing is the financial task people tend to fear the most and find the most confusing. But Scripture reminds us that we need not fear even complex activities such as investing.
For God has not given us the spirit of fear, but of power, and of love, and of a sound mind.

2 Timothy 1:7
At Sound Mind Investing, we equip and empower individual investors with content delivered in a straightforward, easy-to-understand manner, providing the trustworthy guidance, tools, and encouragement necessary to invest with confidence and success.
Specifically, SMI provides time-tested, objective strategies for mutual fund investing (including specific fund recommendations), along with biblically informed, practical teaching on a range of personal-finance subjects. We reach thousands of people each month through our website, monthly investment newsletter, books, videos, media appearances, and speaking engagements.
Sound Mind Investing was founded in 1990 and is based in Louisville, Ky.
Founder and Publisher - Austin Pryor

Read Our Story
In 1989, investment advisor Austin Pryor was having lunch with his long-time friend, the late Larry Burkett.
Larry was the founder of the ministry Christian Financial Concepts (which later merged with Crown Ministries), as well as the author of many books on biblical money management and the host of a popular national radio program.
As they talked about the financial challenges facing Christian families, Larry suggested an investment newsletter was needed. His work focused on teaching biblical financial principles and helping people with aspects of money management such as getting out of debt and using a budget, but nothing existed to help Christians in the complex and often intimidating area of investing.
Austin's initial response was, "You're right, Larry. Too bad no one is doing anything like that." It didn't occur to him that he should publish such a newsletter. After all, he was busy running an investment management firm that he had founded a decade earlier. During the first five years of that business, his average client account generated a 25.5% annual return, putting the firm in the top 5% of investment advisors nationwide. Austin was an expert in mutual fund investing, not a writer or publisher.
But as he put it, "The Lord seemed to keep bringing me back to the need." A year after that conversation with Larry Burkett, and after much time in prayer and sensing God's leading, Austin began addressing the need for an investing newsletter for Christians by publishing the first issue of Sound Mind Investing.
Timeline (1990 - 2023)
The Sound Mind Investing Newsletter Is Launched
Austin writes a 12-page, easy-to-read newsletter with content that can be tailored to any situation. He prints 500 color copies. While the endeavor is physically exhausting and financially unprofitable at first, it is also emotionally satisfying and spiritually fulfilling. Fueled by encouraging feedback from those who read that first issue, he continues.
The Sound Mind Investing Handbook Is Published
As the company grows, so do the number of questions newsletter subscribers have about retirement vehicles, college plans, savings accounts, and investing in general. Guided by an intention to teach "only what one needs to know, not everything there is to know," Austin writes The Sound Mind Investing Handbook. The book is well received and earns an Evangelical Christian Publishers Association (ECPA) Christian Book Award nomination.
The Sound Mind Investing Website Is Launched
With Internet usage growing strongly in the late 1990s, SMI sees the tremendous potential for a web presence to complement and enhance its print newsletter. The company adds staff to develop SoundMindInvesting.com.
The Sound Mind Investing Mutual Fund Is Introduced
A common refrain during the first 15 years of SMI's existence was, "I love your Upgrading strategy, but can you do it for me?" SMI's management team partners with another firm to form SMI Advisory Services, an independent entity, and launches the Sound Mind Investing Fund (SMIFX). That makes it possible for investors to follow a similar Upgrading strategy to what the SMI newsletter teaches, but have it professionally managed for them on a daily basis. The response to the new fund is tremendous, with the fund's assets rocketing to over $200 million in less than two years.
Sound Mind Investing Continues to Grow
More than 30 years have passed, but SMI's passion to serve its thousands of members remains. Additional strategies and tools have been (and continue to be) added. The SMI Handbook is in its 7th edition, with more than 100,000 copies in print. SMI Advisory Services now offers five mutual funds to meet the needs of those who prefer to delegate the day-to-day management of their portfolios.
While much has changed at SMI over the years, one thing has remained the same — a mission to help individuals invest successfully and apply biblical principles to all aspects of their financial life so they will experience the joy of:
In other words, we help people manage money well so they can truly live well.

Learn About Our Mission and Vision
Our Mission:
To be the leading provider of successful investing guidance for the Christian community by helping people take a biblical approach to all aspects of money management and follow proven, objective investment strategies.
Our vision:
To help individuals excel at providing for their family and supporting God's work by helping them excel as investors.
HAVE more so you can GIVE more!
We help individuals invest successfully and apply biblical principles to all aspects of their financial life so they will experience the joy of providing well for their family (1 Timothy 5:8) and generously supporting God's work (2 Corinthians 8:7).
In other words, we help people manage money well so they can truly live well. We want you to have more so you can give more.
Our CORE Values
Faith
Our Christian faith guides everything we do.
Objectivity
Our strategies and recommendations are only based on mechanical, unbiased, time-tested processes.
Clarity
We tell you what you need to know, not everything there is to know.
Patience
We serve investors who take a long-term, proactive approach to investing rather than traders who make short-term, reactive decisions.
Confidence
We help you grow in knowledge about investing and in wisdom as to how and why to invest. This mix of knowledge and wisdom builds confidence.
Generosity
We aspire for our members to live the generous lives we were all designed to live and to model that way of living.