Hurricane Florence appears poised to blast the Carolinas in the coming days, with 1.7 million people currently under evacuation warnings and some 5.4 million covered by various hurricane watches and warnings. It's a dangerous storm and we can be grateful for the technology that has been developed to allow for these forecasts and warnings.
It may still be brutal, but at least people aren't going to be caught unaware. The warnings are out and people have a chance to make preparations and move to safety.
Almost exactly 10 years ago, the collapse of the Lehman Brothers investment bank delivered the "Oh no" moment that unofficially kicked off the Financial Crisis. That's when it became clear things were dramatically worse than most people had expected, as well as when it dawned on everyone simultaneously that obligations were about to not be paid, starting with Lehman Brothers but extending to points no one could predict given the vast intertwining of the global financial system. It was this unknown element of how far the damage would extend that was largely responsible for the paralysis of the financial system that sent ripple effects in every direction.
At first glance, it may seem crass to compare a legitimate physical disaster like a hurricane to a financial disaster like we experienced a decade ago. But it may not be as inappropriate as it first appears. In the aftermath of the Financial Crisis, lives and marriages were lost, careers were wrecked, many people suffered significant financial losses from their investment and home values plummeting.
One far-reaching effect that's only now becoming visible is the loss of faith in the financial system that seems to have produced a "lost generation" of investors. Even with stocks more than tripling from their 2009 lows (and 82% higher than their prior 10/2007 highs), those reaching adulthood in the past decade are understandably skeptical of the stock market. The same thing happened during the Great Depression and impacted that generation of investors their whole lives.
New warnings sounding today
SMI has tried to learn from the recent past without getting caught up in "fighting the last war." In 2013, we introduced a defense-first strategy called Dynamic Asset Allocation, which attempts to beat the market over time from the opposite position of our other main strategies. DAA tries to "win by not losing" — participating to some degree in bull market upside while focusing primarily on avoiding bear market downside. Frankly, it's not always an easy emotional path to follow, but it provides an excellent diversifier to SMI's other approaches.
At the beginning of 2018, SMI announced the first major change to our flagship Stock Upgrading strategy in many years, adding a defensive protocol to the strategy that we believe should greatly reduce the scope of losses suffered during significant bear markets. We've also discussed the early warning signs present in today's market, as current stock market valuations all but ensure a significant drop at some point in the next few years, and provided our recommendations on how to invest in this "late-cycle" bull market.
Our hope is that by both making preparations via our SMI strategies and preparing you emotionally for what's ahead, you'll be poised to not only avoid much of the potential downside of the next bear market, but potentially even be prepared to prosper in its aftermath. Those who clung to the SMI system through the 2008 bear market ultimately came out better off on the other side, but those who sold near the market lows are in many cases still trying to recover the ground they've lost.
And make no mistake, there's reason for concern. The financial system has changed, which is why SMI has had to modify its approach with it.
Consider the following charts from Ben Hunt's recent Epsilon Theory letter. Notice how for the first four decades (1951 to around 1995), US Household Net Worth tracked basically perfectly with US GDP (Gross Domestic Product).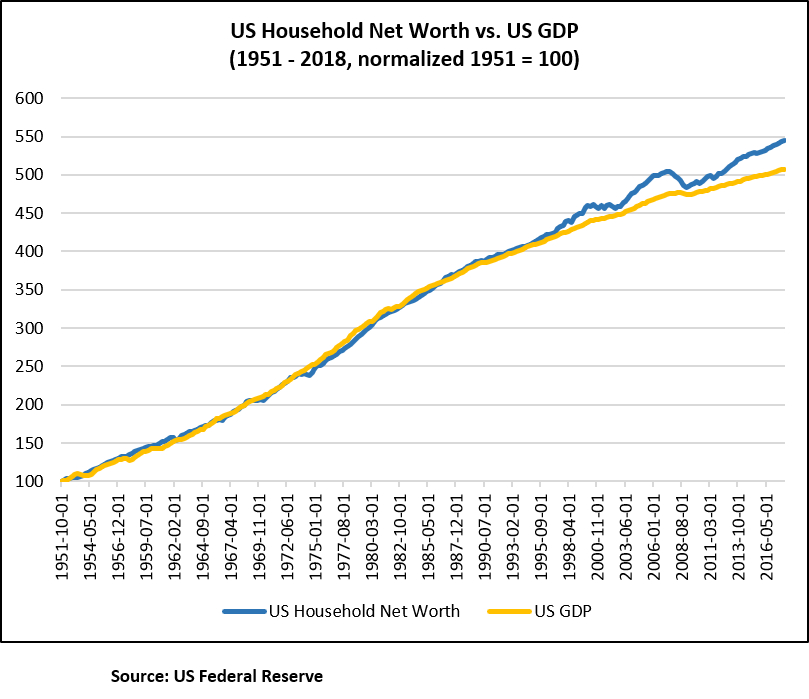 But from 1995 to the present, it's a totally different story. Here's a closer look at that portion of the chart: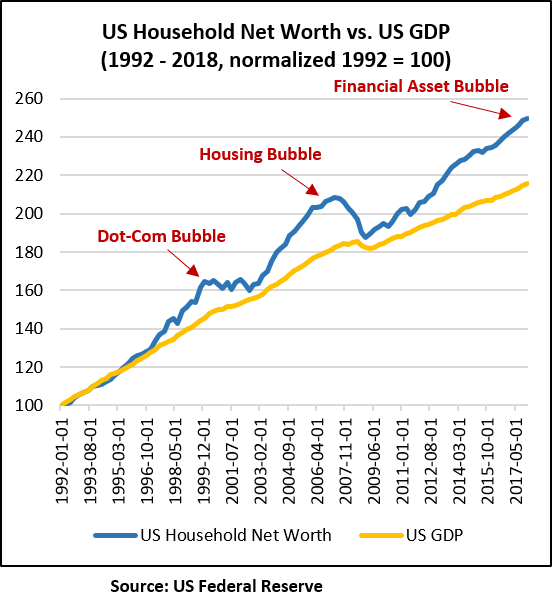 What changed that started the recurring process of Household Net Worth running out ahead of economic growth, then collapsing back? At the risk of oversimplifying, the past 25 years have seen the Federal Reserve (and other global central banks following our lead) take a much more active role in "managing" the financial markets than they had prior to that point. As the chart vividly shows, this has produced a series of financial asset bubbles. The first two resulted in significant (50%+) bear markets, and we're clearly set up for what would appear to be Round 3 at some point.
Note that this does not mean we'll have another Lehman Brothers, or another Financial Crisis where the cost extends far beyond the falling prices of financial assets. But we can't necessarily rule that out either.
The timing of these events is notoriously difficult to predict, which is why we've spent so much effort building defensive protocols right into the strategies SMI members already follow. We're trend followers, not trend predictors, so we wanted to figure out a way to stay invested through the entire bull market before trying to dodge some of the bear market's downside. We're confident that if you're following a blend of SMI strategies that includes healthy doses of DAA and/or Stock Upgrading, you're reasonably well prepared to weather the investing side of any future storms on the horizon.
But apart from your portfolio, what other preparations do you wish you'd made prior to 2008 (or 2000)? Some might wish they'd not taken on as much debt — or worked harder to pay it off. Others might have liquidity tales to tell, how they were left in a bind when suddenly the access to cash they thought they had (through a home equity line of credit or other means) suddenly wasn't available. Still others might mention job decisions they made or didn't make that were impacted by the unexpected economic downturns that accompanied both bear markets. And there may be a few honest enough to admit they aren't emotionally equipped to stay the investing course alone during a financial hurricane and recognize they'd benefit from getting assistance.
No one welcomes a hurricane. But we can benefit from the warning that one is coming. It's time to think through any necessary preparations and to be making decisions in light of what may be ahead. Hopefully, the sun will continue to shine for a long while yet (a "melt-up" over the next several months would sure be fun!). But it's better to be prepared too early than too late, so it's worth thinking through now.