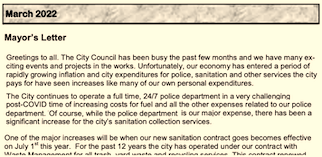 The mayor of my city sent me a letter last week. Well, actually, he sent it to all homeowners and residents. He informed us that the city council just voted to raise taxes.
The move is necessary, he said, because the price of many other things is going up. The cost of gasoline for police vehicles is up nearly 40% over what the city had expected to pay. The company that contracts with the city to pick up trash is raising its price by 22%. Costs are also up for other outside services, including "property tax billing, annual financial audit fees, and utilities," he wrote.
The mayor's letter — and the higher taxes that my neighbors and I will pay starting in July on both homeowners and car insurance premiums — serve as a reminder that inflation cuts a wide swath. It hits home in a multitude of ways.
Attention shoppers
Here's a snippet from a Wall Street Journal story about shoppers who, faced with higher expenses, are starting to change their buying habits:
[C]onsumers, hit by soaring costs for everything from gasoline to child care, are drawing a line, analysts and retailers say. Shoppers are buying staples in smaller quantities, switching to cheaper, store-name brands and more rigorously hunting for deals....

Crystal Philips of Adams, Mass., said she has been feeling the pinch of higher prices for months, but started more seriously cutting costs in recent weeks after she spent $92 to fill the gas tank on the family's vehicle.

Ms. Philips, with four children ages 6 to 18, replaced ornamental plants with vegetable seeds in her backyard garden, started shopping at discount grocer Aldi, and last week ditched her $7-a-bottle Tide detergent for a similarly sized bottle of Purex she found for $2.50 at a Dollar General.

"It doesn't smell as nice," she said of the detergent. "But I'm more concerned with feeding my family."
On my homefront, I'm blessed to be married to a woman who is already among the world's most frugal grocery shoppers (my opinion, based on 40 years of observation), so we haven't changed much in the food area. But we have changed cellphone companies (reducing our cost by about $75 a month), and we switched to a different internet provider (trimming another $25 a month). We're also shopping for cheaper insurance.
A new reality
Rapid inflation means "last month's budget may not work for this month," Christian financial blogger Art Rainer wrote last week. He suggested several strategies for coping with rising prices, including "Identify your priorities" and "Set a new [i.e., a more realistic] standard of living."
Those strategies (and others he recommended) will involve revisiting your budget:
Times of high inflation impact us all. Your budget is one of the most important stewardship tools you have. It is your blueprint for mission. Be proactive by developing a budget that focuses on your priorities and accounts for higher expenses.
When expenses rise and income doesn't, something's gotta give. As Mr. Rainer suggests, it's wise to make changes in a well-thought-out way rather than haphazardly.
How has inflation "hit home" for you thus far? And what spending/lifestyle changes are you making in response?
"Join the Discussion" below.