Mildred Smith of Stockbridge, Ga., answered the phone (not her real name but the story is true). "Señora Smith," said a serious voice on the other end, "This is Rafael Lopez with the Mexico City police. Your grandson is here and asked if we would call you. He was in a car accident. He's not hurt, but he has been charged with DUI. And we must hold him indefinitely unless someone can pay his bail and legal expenses."
"Oh, dear! May I talk to him?"
"Si, Señora. Just a moment."
"Grandmother? I'm so sorry. I hope you can help me. I'm really scared, and I need some money right away..."
Mildred Smith grew suspicious. The voice didn't sound quite like her grandson. Fortunately, she didn't fall for what fraud investigators call the "grandparent scam." But many people do.
A year ago, a Connecticut woman was moments away from wiring her "grandson" $30,000 following "a car accident in Mexico" when a local bank employee intervened. An elderly New York man lost nearly $80,000 in a similar fraud, according to The Wall Street Journal.
To help protect seniors, last year Congress created the Senior Safe Act, a law that allows bank employees, insurance agents, and investment advisors to report "suspected exploitation of a senior citizen" without violating financial-privacy regulations. Also last year, FINRA — the Financial Industry Regulatory Authority — issued a rule allowing brokerage firms to place a temporary hold on disbursements if elder financial exploitation is suspected. (The regulation applies only to disbursements, not to transactions within an account.)
At the state level, more than a dozen U.S. states now allow certain financial firms to refuse or delay suspicious transfers involving elderly customers.
Tempting targets
Older people are particularly vulnerable to financial fraud and exploitation for at least four reasons:
The Effects of Aging
As people age, their cognitive abilities gradually grow less sharp. One common symptom is financial impairment — i.e., difficulty understanding financial concepts that once were familiar.


Retirement-funding Trends
The shift from defined-benefit (i.e., pension) plans to defined-contribution plans such as 401(k) accounts gives many seniors ready access to their retirement savings.


Unwillingness to Report Fraud
Getting scammed is embarrassing and an older person may fear losing independence if he reports it ("Dad just can't take care of himself anymore").


Stress Caused by Major Life Changes
People tend to be especially vulnerable after a significant stress, such as the loss of a spouse or a rapid change in health.
Non-criminal abuse
Financial exploitation isn't always criminal. Some scams simply take advantage of an older person by means of slightly misleading information or subtle psychological pressure.
A 2015 study by financial-services firm True Link Financial found that victims of non-criminal abuse tend to fall into two distinct age groupings. The likelihood of being scammed hits a peak between the ages 60 and 65, and then peaks again for people around age 85.
Seniors in the younger group typically suffer losses related to "fine print," such as unknowingly authorizing recurring fees charged to a credit card (this is known as a "continuity billing scam"). The older group tends to lose money from "problems stemming from too much generosity, such as unaffordable charitable contributions or gifts to family members and caretakers." In many cases, such "gifts" are made under the undue influence of legal guardians, paid home-care workers, or marketers who pressure older adults by phone or through the mail.
Interestingly, one of the top risk factors for older adults is "friendliness." The True Link report offered this example: "You tell mom to hang up on telemarketers, but she is just too polite to hang up on anyone."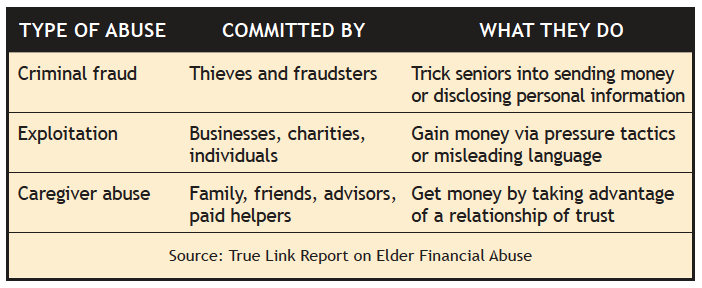 The top scams
According to the U.S. Senate Committee on Aging, here are the most common scams targeting seniors, based on the incidence of calls to the Committee's Fraud Hotline (these are the typical versions — each has variations):
IRS Impersonation
A phone caller poses as an IRS agent, with the caller ID showing "Internal Revenue Service." The "agent" informs the victim that she owes back taxes and penalties and must pay immediately by certified check, credit card, or wire transfer to avoid home foreclosure and possible arrest.


Robocalls
A fraudster first "spoofs" a local phone number, so the call appears to be coming from the victim's area code (making it more likely the victim will answer). The scams themselves vary, from phony fundraising appeals to "credit repair" to claims that a victim's warranty is about to expire and must be renewed.


Sweepstakes
The victim is informed that he or she has won a large cash prize but first must pay taxes on the winnings in order to collect.
Protective measures
As the population of older Americans grows — by 2030, one person out of every five will be retirement age — attempts to defraud seniors likely will increase. But the problem isn't going unaddressed. As noted above, governments and regulatory bodies are taking steps to protect seniors from fraud. Tech entrepreneurs are also taking action.
An app-based service called Eversafe, created by a developer whose mother was defrauded, alerts a designated person (such as an adult child or caregiver) if an elderly person's accounts show unusual transactions or withdrawals. Meanwhile, some banking institutions are adding in-house software that alerts bank personnel to changes in an older person's transaction patterns.
True Link Financial offers payments cards (i.e., prepaid debit cards) that can be customized by a family member or a financial counselor to disallow certain types of transactions. For example, the card could be used to make a purchase at a grocery store but not to pay a telemarketer.
Meanwhile, a service called Nomorobo — available free for many landline phones (there's a paid version for mobile phones) — blocks robocalls by rerouting all incoming calls to a server that checks the caller against a blacklist of spammers.
While new laws and tech innovations are helpful, nothing takes the place of personal vigilance. Follow these two guidelines:
Never rush into a big financial decision — get details in writing and ask a trusted advisor or family member for a second opinion.


Never give personal information over the phone — especially a Social Security or account number — unless you initiated the call and the other party is trusted.
Adult children can help protect aging parents from financial fraud by telling them what you read in this SMI article. Warn them about the "grandparent scam" and impostors who pose as IRS agents. Tell them never to transfer money or make unusual purchases without checking with you first.
If you suspect abuse already has occurred and it involves your parents' bank account, report your concern to their bank. If criminal activity is suspected, contact the local police. Otherwise, call the Fraud Hotline of the U.S. Senate Special Committee on Aging at 1-855-303-9470. A representative will put you in touch with the proper person or agency to address your concern.