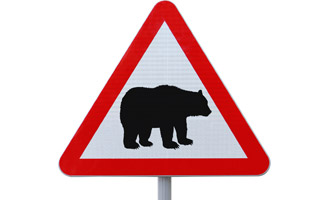 SMI's Bear Alert indicator triggered this past Friday. That means the S&P 500 put in its first weekly (Friday) close at a level more than -15% below the prior high.
That high was set a little more than four months ago on Jan. 3 — 4,796.56. On Friday, the 500 index closed at 4,023.89.
As we've noted on several occasions, the Bear Alert signal doesn't carry much significance anymore. We created it as a rough tool following the 2000-2002 bear market, at a time when the SMI strategies had no other formal defensive capabilities. But in 2013 we unveiled the Dynamic Asset Allocation strategy as a "first line of defense" for our portfolios. The Upgrading "2.0" defensive protocols followed in 2018 as an additional measure to protect against deep/prolonged bear markets.
Now that we have these better-developed tools, we no longer utilize the Bear Alert as a guide.
That said, we know some SMI members still like to know when it triggers! But we suggest using the more finely-tuned tools within DAA and Upgrading 2.0 for defensive guidance.
---
| | |
| --- | --- |
| "Bear Alert Indicator" Status | |
| Date of high closing price of bull market | 01/03/2022 |
| S&P 500 stock index closed at | 4,796.56 |
| 15% decline requires a Friday close at or below | 4,077.07 |
| Alert triggered | 05/13/2022 |