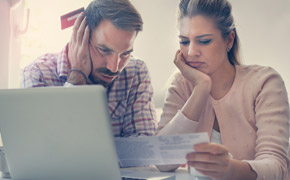 No one likes unexpected expenses, especially large unexpected expenses. This time of year, one such expense can be income taxes. You're probably aware of this year's April 18 filing deadline, but maybe you weren't prepared to owe additional tax. Even worse, perhaps you weren't prepared for how much you have to pay.
Self-employed people are common candidates for income-tax bill shock, especially if you had a really good year in 2016 but didn't make sufficient quarterly payments. Or maybe you had a tough year, including a time of unemployment, which has left you short on funds to pay this year's bill.
Before we get to some options for squaring things up with the IRS, it's important to note that even if you can't pay the full amount you owe, you still have to file your income-tax return (or request a filing extension) on time. Not filing will typically cost you a penalty of 5% of the amount you owe for each month you're late, plus interest. Even if you can't pay on time, filing on time will mean a much lower penalty — 0.5% to 1% of what you owe, plus interest, per month. So be sure to file your return on time and pay as much as you can.
Next, you'll have to figure out how to pay what you owe. Don't let this slide. Uncle Sam can be a patient creditor if you're in touch with him and work things out. He's even made it easier to qualify for the programs described below. However, if you give him the silent treatment, he may play hardball — garnishing your wages, taking money from your bank accounts, or slapping a lien on your property.
Don't let things get to that point. Instead, explore the following options:
Take action
If you're struggling to pay your bills, you may be tempted to ignore the problem. But creditors are more likely to work with people who contact them, explain the situation, and express a commitment to pay. As the options described above demonstrate, that's true even of the IRS. For more guidance on what to do if you can't pay your tax bill, read, "The 'What-Ifs' for Struggling Taxpayers" on the IRS website.