SMI's Personal Portfolio Tracker as well our monthly Fund Performance Rankings report are now available with mutual fund performance data updated through July 31, 2019.
The Portfolio Tracker: The online Tracker personalizes SMI's fund rankings to your specific situation, making it easier to apply our momentum-based Fund Upgrading strategy to your 401(k), 403(b), or other retirement plan.
Using the Tracker, you can filter the performance data of 20,000+ funds we follow to produce a concise report covering only the funds available in your plan(s). If you're new to the Tracker, watch the introductory video.
We update the Portfolio Tracker with the latest month-end data from the fund research firm Morningstar on the 8th of the new month (except when the 8th falls on a weekend). We wait until the 8th because Morningstar's database is subject to revisions during the first few days of the month. By the 8th, the previous month's performance numbers are reliable.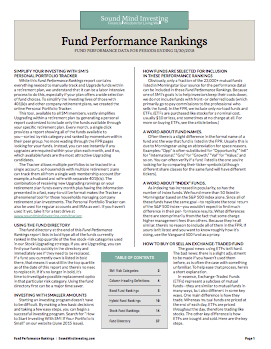 Fund Performance Rankings (FPR): The FPR report is a PDF file containing the latest performance data — along with SMI's momentum rankings — for more than 1,600 no-load traditional funds and ETFs.
The funds included in the FPR are selected on the basis of asset size, brand familiarity, and brokerage availability.
Check page 2 to learn how to use the FPR report. Page 3 includes an overview of the 70+ risk categories that will help you compare "apples to apples." Page 4 has explanations of the various data-column headings. If you are an existing member, please Login.