The events of the past two weeks involving Iran and the U.S. have shaken the nerves of many investors, as these types of geopolitical events often do.
As most everyone is already aware, following the killing of a U.S. contractor in Iraq by missile attack attributed to Iran proxies, the U.S. killed Iran's top military leader last Friday. Three days of national mourning followed in Iran, which concluded last night with a direct missile attack from Iran against U.S. bases in Iraq.
It appears those attacks were low impact (which may well have been by design), and hopefully will mark the end of the overt ramping up of hostilities.
It always feels awkward to address these issues of life and death in financial terms. Clearly there are much more important issues at play here, so please don't misinterpret this narrow analysis. But you're not here for our foreign policy expertise (which is a good thing!), so here's a quick reminder of the key investing lessons past versions of these events have taught us.
The simple truth to take away from this post is this: Big political/geopolitical news events are almost never a good reason to change your investment portfolio.
Consider the typical response of the markets to Middle East crises over the past three decades, as published last Friday by CNBC: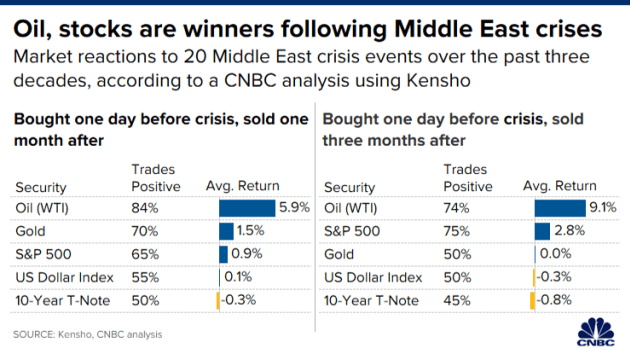 Focusing specifically on the S&P 500, the chart shows that stocks have gained an average of +0.9% over the month following similar past events, and +2.8% over the following three months. That's very close to the normal rate of return for stocks, so clearly these past events haven't tended to have much of a lasting impact on U.S. stocks.
SMI has written in greater detail about this big picture issue of news events tending to have small lasting impact on financial markets, which you can review in A Stock Market History Lesson: Crises Are More Common Than Bear Markets. Within that article is the following graphic, which I'll conclude with: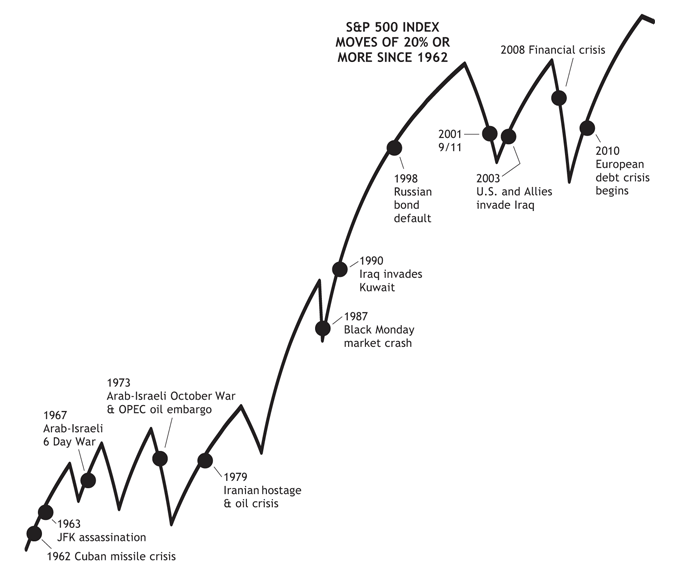 Bottom line: Unless a news event shows a clear reason why it will directly hurt the profits of most U.S. companies (as the 1973 OPEC oil embargo did back in the era when we were utterly dependent on Middle Eastern oil), you should ignore it from an investing perspective. Most "big news" events have little lasting impact on the financial markets.