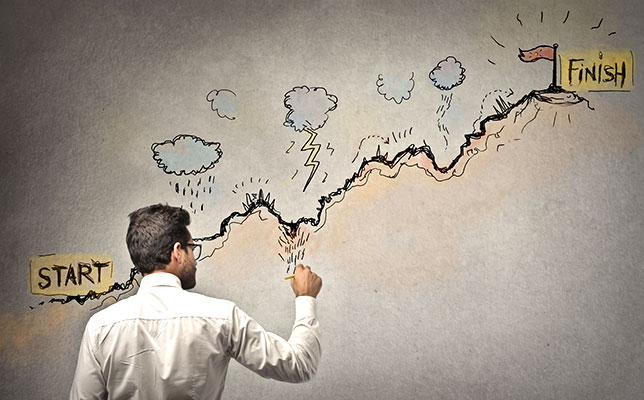 Stock prices can move suddenly and sharply, as the early months of 2020 have emphatically shown. Your holdings can take a beating, make a remarkable recovery, and then get pummeled again — all in the space of a few weeks (or even just a few days!).
How can you remain calm when the financial world periodically enters such times of temporary insanity? Here are our suggestions.
Look back
Remember that downturns are a normal part of investing in stocks. Since 1974, investors have experienced only six bear markets (i.e., declines of -20% or more). But over that same period, the stock market went through 18 "corrections" (declines of between -10% and -20%). In other words, unsettling declines—even if not full-fledged bear markets — are somewhat common. An investor's progress is sometimes "two steps forward, one step back."

Understand that even bear markets aren't insurmountable obstacles for long-term investors. Given that the last two bear markets (2000-2002 and 2007-2009) were severe by historical standards, it's no surprise that many are concerned that a third bad one could be at hand. But even those two nasty declines represented only temporary setbacks for long-term SMI investors.

An Upgrader who stayed the course through the 2000-2002 bear market would have earned back all losses by August 2003. Recovery from the deeper 2007-2009 bear market took longer, but even then, Upgraders broke even by April 2011.

Even more impressive, the back-tested results of SMI's Dynamic Asset Allocation strategy show that an investor following DAA wouldn't have experienced a bear market in their own portfolio in either period! More recently, during the sharp "coronavirus crash" in February-March, as the S&P 500 plummeted -33.8%, DAA was down only -6.9%.
Look around
Imitate the styles of successful long-term investors. Overly active selling/buying tends to be counterproductive, so don't assume you will improve your results by making trades in response to market volatility. One study of 10,000 accounts at a major discount brokerage house over a seven-year period found that the stocks investors sold typically went on to perform better than the ones they bought. Long-term investors avoid a "trading mentality." They remain methodical and patient in following a plan.

Accept the reality of today's financial environment and expect market turbulence. We still face many unknowables regarding the economic impact of COVID-19. So it seems likely that sharp volatility will continue as the cycle of virus-related good news and bad news continues to play out in the months ahead. The fact that continued volatility is likely has at least two implications.

First, it's wise to diversify. Diversification lessens the impact on your portfolio when setbacks take place. Although concentrating your money in fewer securities holds the tempting potential for great profits, large losses are also possible from following that approach. By avoiding this "all your eggs in one basket" temptation, it's less likely that any single loss will do great harm to your portfolio. Second, maintain a long-term view. Keeping your focus many years out enables you to better ignore the news of the moment.
Look ahead
Maintain sufficient liquidity to meet your monthly cash-flow needs. Your month-by-month standard of living — which involves such things as making mortgage payments and meeting routine living expenses — should not be dependent on how well the market does. Having sufficient reserves in a savings account or a money-market fund enables you to leave your stock market commitments untouched. With a faraway horizon, you have time for selloffs to run their course.

Don't be preoccupied with avoiding short-term losses — focus instead on where you want to be financially in 5 to 10 years. The important thing is that your portfolio mix is appropriate in light of your season of life and your long-term goals. SMI's Dynamic Asset Allocation and Upgrading 2.0 strategies utilize different approaches to managing risk during times of acute market danger. If you're within a few years of retirement, you may feel the need to go beyond the measures called for by these strategies. But beware that doing so could leave you flat-footed when the market recovers, potentially reducing your long-term returns. So deviate from the strategies only after careful consideration — and make any such modifications gradually.
Look up
Exhibit the fruit of the Spirit — practice patience and self-control. Take your cue from the Parable of the Talents where the master was away for "a long time." A long-term approach allows you to take up-and-down market cycles in stride. If you invest regularly, say in a company 401(k) plan, continue to do so regardless of market conditions. Dollar-cost-averaging (i.e., making regular investments no matter what's happening in the market) will use temporary setbacks to your advantage.

Remember your heavenly Father and trust his promises. "Look at the birds of the air; they do not sow or reap or stow away in barns, and yet your heavenly Father feeds them. Are you not much more valuable than they?... But seek first his kingdom and his righteousness, and all these things will be given to you as well" (Matthew 6:26, 33).