Social Security benefits are indexed for inflation, so when inflation rises, benefits rise too.
With inflation "coming in hot" this year, nearly 60 million U.S. retirees will be getting a heftier monthly SS benefit starting in January. The cost-of-living adjustment (COLA) for 2022 is 5.9%, the largest increase since 1982.
The table below, from the Social Security Administration, translates the percentage increase into dollars (the table uses average benefits).
Part of the Social Security increase, however, will be claimed by higher Medicare Part B premiums. We don't yet know the particulars — Medicare won't announce its premium increase until next month.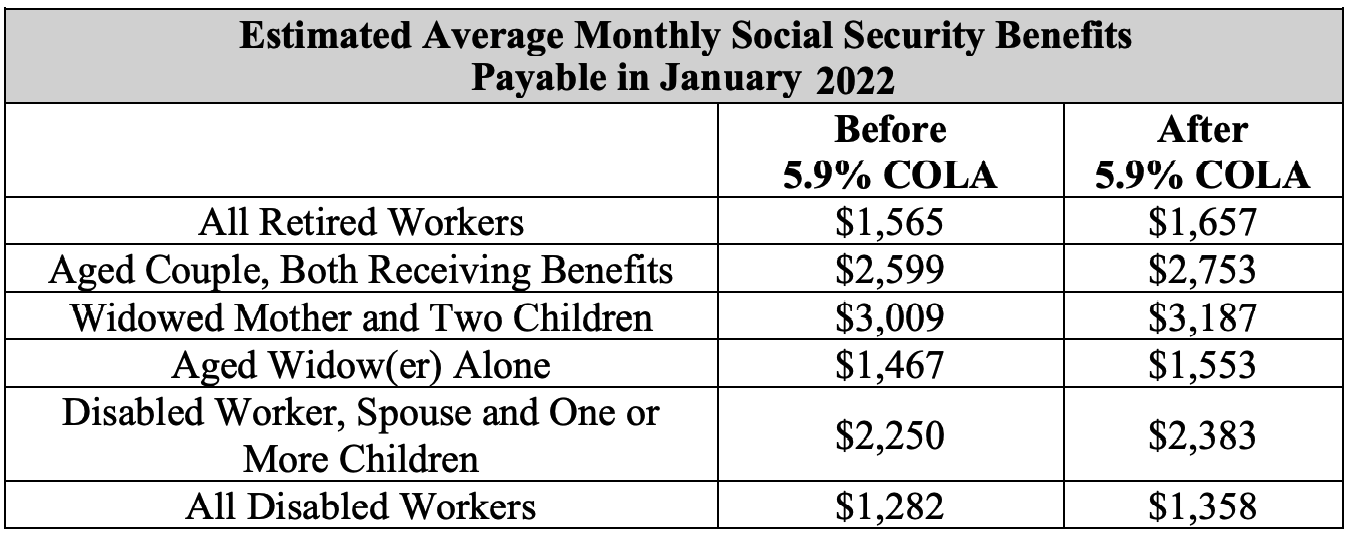 Further, as financial blogger Wolf Richter points out, next year's COLA is just playing catch up to this year's rising costs.
Social Security recipients who rent, depending on where they live, [have] already faced double-digit rent increases this year. Then theres gasoline, which jumped on average 42% year-over-year in September and utility natural gas which jumped on average 21%. Traveling, now that you have time? The CPI [consumer price index] for hotels and motels has jumped by 20% and rental cars by 43%....

So recipients are already way behind from this year. And next year, if they're lucky, they might fall behind just more slowly.
The ceiling rises on the "earnings limit"
Along with the 5.9% increase in benefits for 2022, the Social Security earnings limit is rising too. It'll be about 3% higher. That means retirement-income beneficiaries who 1) haven't yet reached "full" retirement age and 2) are still working can earn more before seeing their benefits reduced. (See SMI's August article on the earnings test.)
The earnings limit for workers who are younger than "full" retirement age...will increase [from the current $18,960] to $19,560 . (We deduct $1 from benefits for each $2 earned over $19,560.)

The earnings limit for people reaching their "full" retirement age in 2022 will increase [from $50,520] to $51,960. (We deduct $1 from benefits for each $3 earned over $51,960 until the month the worker turns "full" retirement age.)

There is no limit on earnings for workers who are "full" retirement age or older for the entire year.
More income subject to taxation
While Social Security recipients will welcome the bump-up in benefits and the earnings limit, another increase won't be too popular among a particular group of taxpayers: more income will become subject to the Social Security tax. Right now, earnings up to $142,800 are taxed. In 2022, that ceiling will rise 2.9% to $147,000.
The result will be a larger tax Social Security tax bill for about 12 million higher-income earners. The increase means the maximum Social Security tax per worker in 2022 — half paid by the employer, half by the employee — will be $18,228 (up from the current $17,707). High-earning self-employed people must bear that entire liability on their own.
The larger picture
The changes for 2022 mean the Social Security Administration will pay out about $100 billion a month to retirees, survivors, and the disabled, compared with about $93 billion per month this year. If all goes well, the tax-base increase will make up for most of those additional expenditures.
But the Committee for a Responsible Federal Budget — a think tank with prominent Democrats and Republicans on its board — says the higher cost-of-living payments could deplete the Social Security "trust fund" a year earlier than the 2034 date projected recently by the program's Board of Trustees.
For more on the financial challenges facing Social Security and what they might mean for future retirees, see The Outrageous Truth About Social Security from the current issue of the SMI newsletter.