Last year began with the S&P 500 setting a new all-time high, but SMI was already eyeing what lurked just around the corner. Our January 2022 cover article, Winds of Change are Blowing: Casting a Wary Eye on 2022, detailed our concern that historically overpriced markets were about to run into a Federal Reserve forced to raise rates despite slowing economic growth. 
That ended up being the story of the year. Stocks and bonds suffered mightily as interest rates adjusted higher from the rock-bottom levels of the past decade. Even though this took a toll on both asset classes, it was particularly damaging for bonds, where investors typically have higher expectations of safety. As a result, the "60/40" balanced portfolios that the modern money management business is built upon suffered one of their worst losses ever.
Fortunately, unlike many investors who lack options outside of traditional stocks and bonds, SMI investors were able to limit their downside. Allocations to non-traditional classes such as energy stocks (via Sector Rotation), commodities, and gold — plus a willingness to sell and temporarily move to cash (a missing tool in the modern investing toolbox) helped us avoid a significant portion of 2022's losses.
Just-the-Basics (JtB) & Stock Upgrading
The table below shows the returns of a JtB portfolio that did not implement any of SMI's defensive protocols. Of course, many JtB investors do follow along with those Stock Upgrading signals, which made a huge difference in 2022.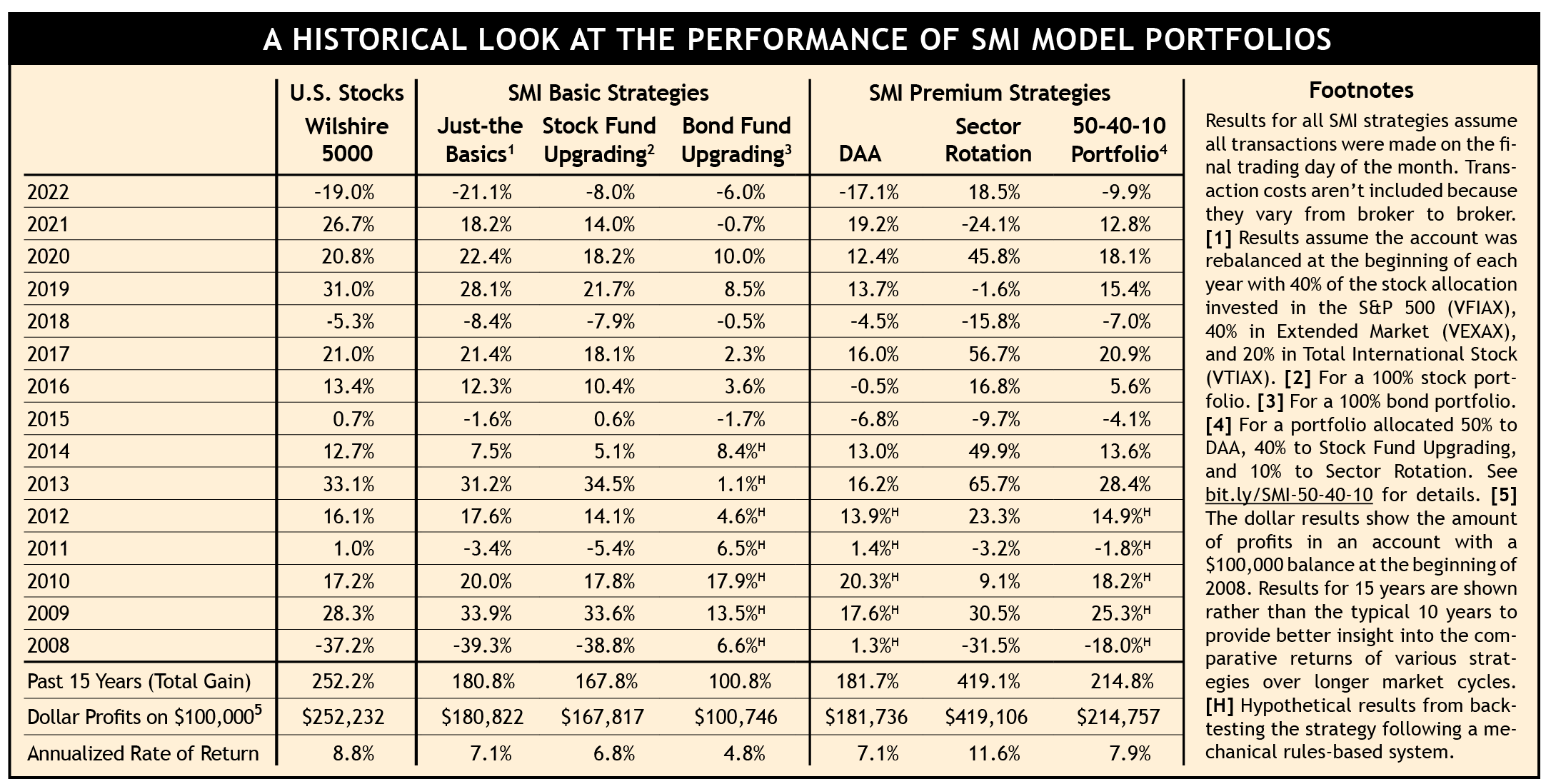 The comparison of JtB (-21.1%) relative to the broader market (-19.0%) shows the widespread nature of last year's losses. There were few places for investors to hide. JtB's foreign component lost a little less (-16.0%) than U.S. large company stocks, but smaller stocks lost more (-26.5%).
Stock Upgrading weathered the 2022 storm with a very respectable -8.0% decline for the year. Upgrading was already down -8.9% through Jan. 27 when its defensive protocols triggered, which means that from late January on, Stock Upgrading basically sat out the rest of the bear market with modest positive returns through year-end. Not only did this provide significantly better returns for Upgraders vs. indexers, but it also meant the bulk of 2022 was a completely different emotional experience.
The biggest reason for Stock Upgrading's superior performance was its incremental shift to cash during the early months of 2022. But that wasn't the only reason.
The strategy also pivoted sharply away from growth stocks, which suffered the worst losses last year, shifting almost entirely into value stocks by February. Stock Upgrading's allocation to commodities also paid off big for a second consecutive year, gaining +26.2% in 2022 (despite spending August-December in cash).
Bond Upgrading
Bond Upgrading was similarly impressive, limiting 2022 losses to -6.0%, much better than the U.S. bond market's -13.0% loss. Runaway inflation, which peaked at 9.1% in June, drove a rapid rise in bond yields from extremely low starting levels. When bond yields rise, bond prices fall.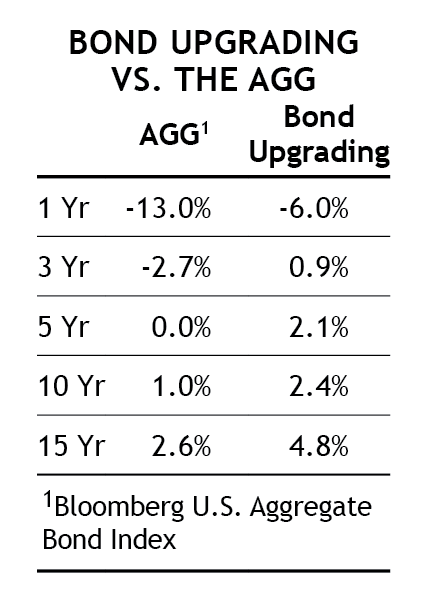 While the size of the bond market's losses in 2022 was certainly unusual, the fact that Bond Upgrading added value for SMI investors was not. The table at right shows that Bond Upgrading has consistently outperformed over the years. It's easy to gloss over the relatively low absolute returns bonds have provided in recent years, but the difference between earning +2.6% vs. +4.8% per year over 15 years (see last row of the table) amounts to a total gain of +100.75% (doubling your investment) vs. earning just +46.2%. Stocks often get all the attention, but Bond Upgrading has quietly made a big impact for SMI investors over the years.
Dynamic Asset Allocation (DAA)
DAA was the lone disappointment among the SMI strategies in 2022. Even though its loss of -17.1% beat the market, we expect better bear-market defense from this strategy. All of the damage occurred in the first half of the year, as DAA was slightly positive from mid-July through year-end.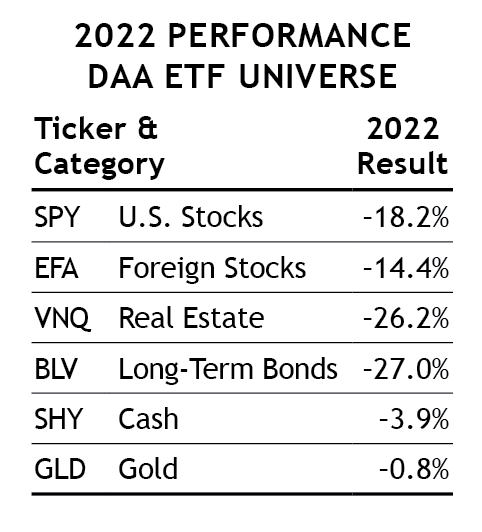 What hurt DAA the most was its historical reliance on long-term bonds during periods when stocks have fallen. Long-term bonds were never a viable option for us in 2022, as the rapid rise in interest rates punished returns of long-term bond funds like BLV (see table at right). DAA never bought those bonds, so we didn't incur those losses. But by focusing solely on long-term bonds (as opposed to potentially buying short-term bonds sooner, which we eventually did over the summer), DAA ended up holding real estate longer than we would normally have expected to. 
In fairness, DAA was one of SMI's best-performing strategies a year earlier (2021), so there is a bit of normal variation between the strategies at work here. But it was still a disappointing year for DAA. Gold had impressive returns priced in any currency other than dollars: +7% in Euros, +13% in British Pounds, and +15% in Japanese Yen. But the exceptionally strong dollar muted gold returns for U.S. investors, eliminating another potential source of strength for DAA.
The positive news is that these dynamics began to shift late in the year, which bodes well for 2023. DAA gained +4.0% in November/December, then gained another +5.5% in the opening weeks of January 2023. Rising yields were tough on DAA last year, but higher starting yields and the potential for yields to fall during a recession offer reasons for optimism regarding cash, bonds, and gold — all stalwarts of the DAA recession/bear market playbook.
Sector Rotation (SR)
It's impossible to overstate Sector Rotation's value in 2022 as it directed SMI investors to one of the few available sources of positive returns. SR's pivot to energy stocks at the end of January set the table for the strategy's overall 2022 gain of +18.5%. For much of the year, everything was falling together — except for SMI's commodities and energy stock allocations. They were a tremendous emotional support during a tough bear market year and made a big difference to our overall bottom-line performance as well.
 50/40/10
This portfolio refers to the specific blend of SMI strategies — 50% DAA, 40% Upgrading, 10% Sector Rotation — discussed in our April 2018 cover article, Higher Returns With Less Risk, Re-Examined. It's a great example of the type of diversified portfolio we encourage most SMI readers to consider. 
A 50/40/10 portfolio (with 100% stock upgrading) limited losses to -9.9% in 2022. As with Stock Upgrading, all of that loss occurred during January before our defensive protocols kicked in. This blended portfolio gained +0.8% from Jan. 27 through year-end while the broader stock and bond markets continued to fall. Incidentally, that Jan. 27 defensive protocol trigger came just 23 days after the S&P 500 set a new all-time high, so it's difficult to imagine a quicker pivot.
As we detailed last month in From Inflation to Recession: The Outlook for a Continuing Bear Market in 2023, we think the bear market likely will continue in 2023 as a recession rolls in. We can reduce the risks present in today's market conditions through an appropriate degree of diversification, both between types of assets and the strategies we employ. Portfolios constructed using a blend of SMI's strategies are an effective way to limit losses during bear markets, putting us in a strong position to accelerate our full-cycle investing gains when the next bull market eventually begins.