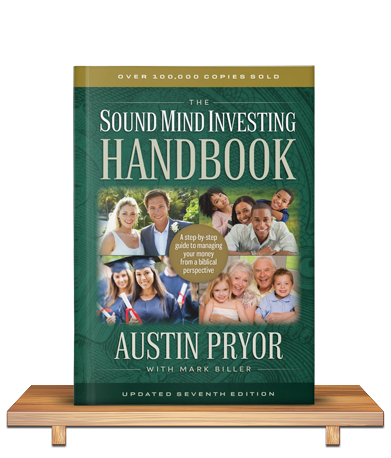 The Sound Mind Investing Handbook
Special Offer on the New 7th Edition:
20% Off Retail Price – and Free Shipping!
Mystified by investing jargon and overwhelmed by the myriad of investment options? The Sound Mind Investing Handbook is the tool you need to become a knowledgeable, confident, successful investor. Join the more than 100,000 readers who have turned to The SMI Handbook to learn how to make the most of what God has entrusted to them.
Order Now!
The Essentials About Investing
Many investors focus on specific investments while neglecting the core principles that can dictate success or failure. The SMI Handbook puts first things first. You'll learn big-picture principles and techniques that are the foundation of a successful investing plan.
Personalized for You
Not everyone has the same comfort level with risk. Nor is everyone in the same season of life. The SMI Handbook helps you gauge your risk tolerance and pair that information with your investing time frame. The result is a portfolio framework matched to your particular needs.
Clear Language, Not Jargon
The Sound Mind Investing Handbook is written in plain, everyday English — and its lessons are served up in small, easy-to-digest portions. You'll find the design and layout of each chapter clear, interesting, and easy to follow.
A Biblical Perspective
"There is nothing new under the sun" (Ecclesiastes 1:9). So you shouldn't be surprised to learn that The SMI Handbook's underlying values and practical strategies are outworkings of concepts that have endured for centuries. Some people may think society has grown too sophisticated for lessons rooted in the ancient texts of Scripture, but the financial disruptions and cultural disintegration of the 21st century point to our need for biblical truth as never before.
Ordering is Easy and Shipping is FREE!
Free Shipping!
For a limited time, we're shipping the new 7th Edition of The Sound Mind Investing Handbook for FREE!* Simply fill out the online order form and pay only $21.59 — that's 20% off the retail price. (Kentucky residents pay $22.89 – sales tax added.)
*Within the U.S.
Pay by Check? No Problem.
Please send your check (made payable to "SMI") in the amount of $21.59 ($22.89 for Kentucky residents) to:
Sound Mind Investing
Book Order Offer
9700 Park Plaza Ave Ste 202
Louisville KY 40241-2287