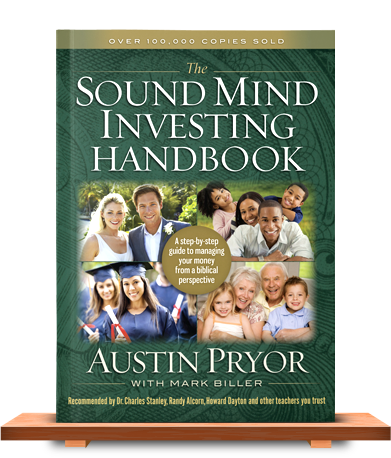 The Sound Mind Investing Handbook
Special Offer:
20% Off Retail Price Plus Free Shipping
It's easy to get overwhelmed by all the investing jargon and the many investment options. This clear guide is just the tool you need to become a knowledgeable, confident, successful investor. Join over 100,000 readers who have used the Sound Mind Investing Handbook to learn how to make the most out of what God has entrusted to them.
Out of Stock - New Edition Coming Soon
The Essentials About Investing
You'll learn the big-picture principles and techniques—the building blocks upon which successful investing plans are constructed. Too many investors focus their learning on specific investments, when in reality, it's mastery of these core principles that usually dictates the success or failure of an investment plan. You'll learn what you need to know about investing, not all there is to know.
Personalized for You
Different people are in different seasons of life and have different comfort levels with risk. You'll take a short, enjoyable investing temperament quiz to assess your risk tolerance. Pairing that with your investing time frame will help you customize an investment portfolio that best meets your unique needs.
Clear Language, not Jargon
All of the lessons are worded in everyday "plain-English," and come in small, easy-to-digest portions. Also, you'll find the layout and design of each chapter as clear, interesting, and easy-to-follow as possible.
A Biblical Perspective
There's nothing new under the sun (Ecclesiastes 1:9), so you should not be surprised to learn that the underlying values and practical strategies taught in this book are merely the outworkings of concepts taught in God's Word for centuries. Investing in the 21st century, we may be tempted to feel we have grown too sophisticated for biblical lessons. In truth, the complexities and direction of the world point to our need for biblical truth as never before.
Ordering is easy and shipping is FREE!
Free Shipping!
For a limited time we are shipping the handbook for FREE! Simply fill out the online order form and pay only $19.99 — that's 20% off the retail price ($21.19 for KY residents).
Pay by check? No Problem.
If you'd rather pay by check, please send your check (made payable to "SMI") in the amount of $19.99 ($21.19 for KY residents) to:
Sound Mind Investing
Book order Offer
Ste 202
9700 Park Plaza Ave
Louisville, KY 40241