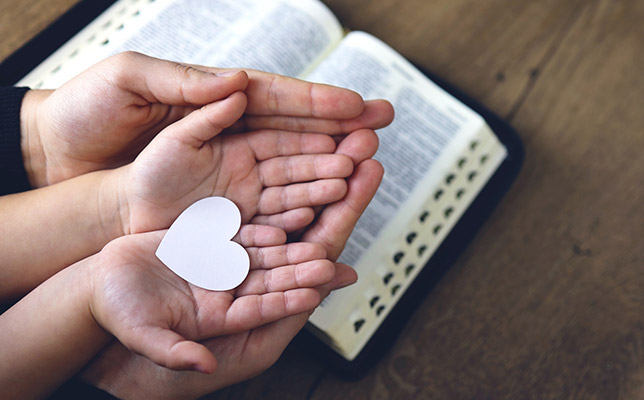 I know several young adults who grew up in Christian homes and saw their parents giving to their church, but none of these young people really understood why. One 20-something man said that when his parents gave, it seemed as if they were just "checking a box."
If ever there were a time of year perfectly suited to teaching our kids why we give, and getting them involved in generosity, it is the Christmas season.
A grateful response
The Bible says we love because God first loved us (1 John 4:19). Much the same can be said about generosity. One reason we give is that God first gave to us. Out of His great love, God gave us his Son, and through faith in Him, the promise of salvation.
"For God so loved the world that he gave his one and only Son, that whoever believes in him shall not perish but have eternal life" (John 3:16).
In that well-known verse from John's gospel, we see God expressing one of the most fundamental aspects of His nature and acting as the ultimate role model for generous living. The Bible says we are made in God's image. Since God is endlessly generous, that means generosity is woven into our spiritual DNA. To live generously is to live in sync with our design.
So it's crucial to help your kids see that giving isn't about paying a bill or checking a box. It is an expression of gratitude toward our endlessly generous God. It is also a way of acknowledging that God gives us everything we have — the roof over our head, the food on our table (1 Chronicles 29:14). And, finally, partnering with God in addressing some of the world's greatest needs is essential to living the kind of meaningful, joyful lives he intends for us to live (Acts 20:35).
Putting a face on generosity
If our kids are to understand why God designed us to live generously, the topic has to be made personal and practical, not theoretical. They have to understand just how deeply Jesus cares about the poor. The Bible says that when we help the poor, it is as if we have assisted the Lord Himself.
"Whoever is kind to the poor lends to the Lord, and he will reward them for what they have done" (Proverbs 19:17).
The more real we can make this for our kids, the better. That means getting real money involved — their money. Here are some very tangible ways our kids can help those who are hurting. Each one comes with an opportunity to learn the surprising truth about the millions of people — millions of children — in different parts of the world who don't have access to so much that we so easily take for granted: food, clean water, a decent home, education, health care, safety, Bibles, and more.
This Christmas, as we celebrate and give thanks for the Greatest Gift ever given, is the perfect time to help our kids develop or strengthen hearts of generosity that are central to their God-given design.