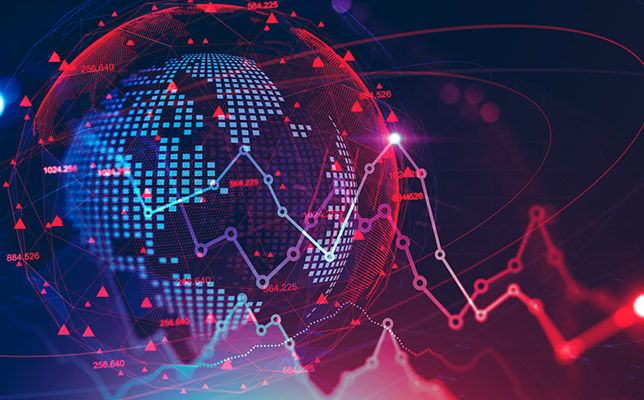 Following this summer's rally, the bear market resumed during the third quarter as the Federal Reserve accelerated its tightening campaign in an effort to curb inflation.
In addition to hiking the Fed Funds interest rate another 0.75% in September (to a range of 3.00%-3.25%), the pace of Quantitative Tightening doubled to $95 billion per month. Quantitative Tightening is the process of shrinking the Fed's balance sheet by selling Treasury and mortgage-backed bonds, or allowing them to mature without being replaced.
This year has seen the fastest pace of interest rate hikes in history. The markets are struggling to adjust to the new environment after enjoying extremely low rates for the past dozen years. The S&P 500 index saw its year-to-date decline reach -25% by the end of September, while the tech-heavy Nasdaq index was down -32%. The Bloomberg U.S. Aggregate Bond Index has also suffered substantial losses, down over -15% through the end of September.
It's rare to see bonds decline so significantly alongside stocks. Since 1928, there have only been four other calendar years when both the S&P 500 Index and the 10-year Treasury bond posted losses (1931, 1941, 1969, 2018), and 2022 is the first year both have been down more than -10%. This has put unusual pressure on "balanced" portfolios — a 60/40 blend of the S&P 500 Index and 10-year Treasury Bond is down -21.0% for the year through the end of September. Only once before has this 60/40 portfolio suffered a worse calendar-year loss, -27.3% in 1931, the depths of the Great Depression. Only three other years have seen declines in excess of -10% for this portfolio: 1930, 1974, and 2008. Those three years belonged to three of the worst bear markets ever, yet this year has been worse.
While the pace of financial tightening is landing heavy blows on the prices of financial assets, inflation itself has yet to be significantly reduced. September CPI (announced in October) was up 8.2% year-over-year. That's an improvement from the June peak of 9.1% but remains stubbornly high. If there's a silver lining, it's that the U.S. economy continues to hold up well so far. If the Fed is dragging the economy into a recession, at least it has been a slow descent.
Unfortunately, the Fed faces a grim choice. Either they ease up on the financial tightening and accept higher ongoing inflation (losing whatever is left of their credibility in the process), or they keep tightening into an ever-likelier (and deeper) future recession, which will continue to pop all the asset bubbles they've inflated over the past decade. Fed policy is known to work on a "long and variable lag," meaning the full impact of the tightening that has already happened won't be fully evident in the economy for another 6-18 months.
Thankfully, SMI's strategies have side-stepped much of the damage inflicted on markets this year. That's been particularly true during the most recent leg of this bear market, which resumed in mid-August.
Let's take a closer look at the performance of each SMI strategy. (SMI Premium-level members can view a detailed video presentation of this information at bit.ly/SMI-Oct-video.)
Just-the-Basics (JtB) & Stock Upgrading
As bad as U.S. stock returns have been this year, foreign stocks have been even worse. The foreign component of JtB was down twice as much as the S&P 500 during the third quarter, resulting in JtB struggling to a loss of -5.4% for the period. It's worth noting that JtB is the only SMI strategy that still has foreign exposure, as SMI's active strategies have been out of foreign stocks entirely for many months.
Stock Upgrading's heavy allocation to cash has had a dramatically positive impact during the most recent leg of the bear market. From August 16–September 30, the S&P 500 lost -16.4% while the Nasdaq index fell -19.4%. In contrast, Stock Upgrading limited losses to just -4.0%. That 12-15 percentage point advantage is dry powder preserved for when the bear market finally ends and we're able to go shopping on the bargain racks.
Selling our commodities position at the end of July has proven to be a good move as well, as they followed a -1.5% August loss with a September decline of -7.0%. Sitting in cash is boring, but boring is beautiful when the air is being rapidly released from asset bubbles.
Bond Upgrading
While interest rates continue to climb, the Bloomberg U.S. Aggregate Bond Index has drastically slowed its rate of descent. Bonds fell -12.7% through the first 5½ months of this year. But over the past 3½ months, the index lost only -2.3%. As rates rise, the returns from bonds have a larger income component. Thus, a further rise in rates has a less negative impact on their total return going forward.
This is unfamiliar territory for many bond investors. Today, all Treasuries three-months or longer yield over 4%. We have to go back to 2007 — before the Financial Crisis and the beginning of the Quantitative Easing era — to find short-term interest rates over 4%.
However, with interest rates still creeping higher, most bond funds are still struggling to produce positive total returns. Not surprisingly, this is more of a problem with longer-term bonds, which get hit harder by rising rates. So Bond Upgrading continues to hide out primarily in short-term bonds, as we have for over a year now.
While rising rates have made 2022 the worst year in decades for those already invested in bonds, today's higher rates present a much more compelling starting point for attractive future returns. Even if interest rates don't fall in the near future, just a leveling out at today's current yields would create an environment for bond funds to produce solid positive returns going forward.
Dynamic Asset Allocation (DAA)
This year's decline has been a shock to many investors, and we have to count the performance of DAA among the year's surprises. Because of the dreadful performance of the broad bond market, DAA took longer than normal to pivot to its most conservative possible allocation. Even after it did, its performance wasn't as stable as this "bunker mode" has been during past bear markets, because rising interest rates continued to chip away at bond, gold, and even cash returns.
That said, there has been a marked turn in DAA's performance since the latest leg of the bear market resumed in August. From August 16-September 30, the S&P 500 fell a whopping -16.4% and the Bloomberg U.S. Aggregate Bond index slid -6.5%. In contrast, DAA's loss was just -4.5%.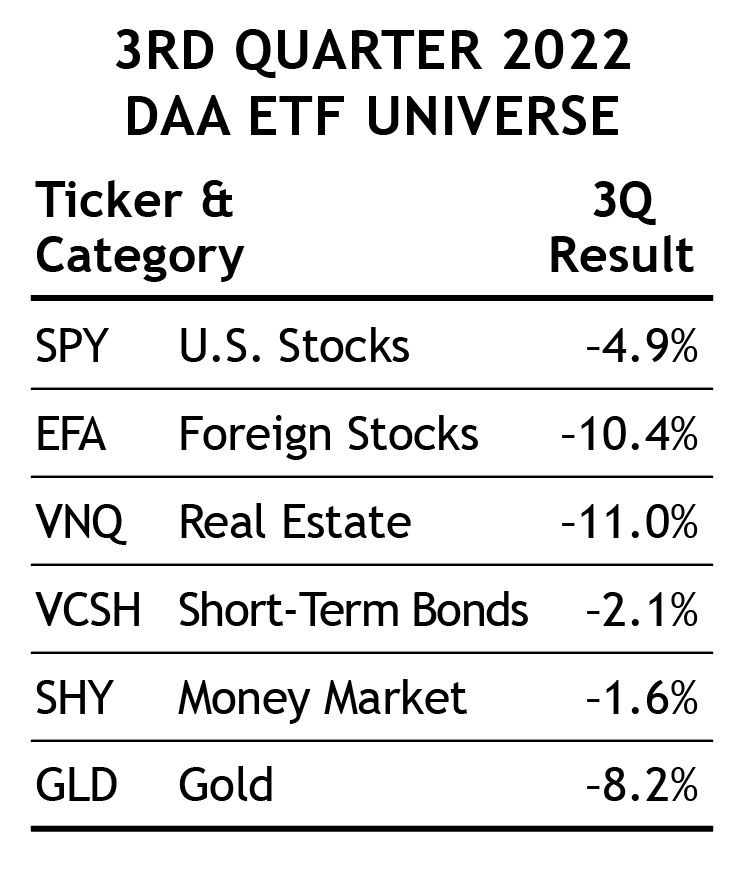 That bodes well for the remainder of this bear market, at least in relative terms, even if asset classes that have traditionally provided bear market upside (bonds and gold) struggle to deliver positive absolute returns. Where interest rates will ultimately peak for this cycle is anyone's guess, but it seems likely that the developing global recession will eventually bring this rising rate cycle to an end. As noted earlier, at today's current yields, it won't take much to start producing positive absolute bond returns again.
This is why DAA pivoted to short-term bonds at the end of August. DAA normally uses long-term bonds, but we've been forced to adapt to this worst bond bear market in decades by reducing risk and using short-term bonds instead. The specific bond fund DAA is utilizing was down just -0.7% in the 3½ months that ended September 30, after falling -6.8% during the first 5½ months of this year. With these bonds currently yielding +5.25%, they are generating a lot more income to offset any further increases in short-term interest rates. These dynamics are also true of DAA's cash position (currently yielding +4.20%), which owns even shorter-term fixed-income holdings.
Sector Rotation (SR)
SR was the lone SMI strategy to post a positive return during the third quarter (+1.0%) and was positive year-to-date (+9.2% through mid-October) as well. That's impressive outperformance relative to the broader market, which is down -25% or more.
Since the end of January, SR has been invested in energy stocks. Energy is a volatile sector, requiring us to hold on through some significant downturns, as was the case in September. But the longer-term bullish thesis regarding energy is solid. The world simply doesn't have enough energy reserves and it's hard to get more!
50/40/10
This portfolio is the specific blend of SMI strategies — 50% DAA, 40% Upgrading, 10% Sector Rotation — discussed in our April 2018 article, Higher Returns With Less Risk, Re-Examined. It's the type of diversified portfolio we encourage most SMI readers to consider. (Note: Blending multiple strategies adds complexity. Some SMI members may prefer an automated approach. See SMI Private Client: Professional Management of Your Personal Portfolio Is Now Available.)
A 50/40/10 portfolio would have dropped a modest -4.4% from the middle of August through the end of September, dramatically less than the -16.4% loss of the S&P 500 index or -19.4% for the Nasdaq index. Since these strategies finished transitioning to defensive holdings earlier this year, they've been producing the type of dramatic outperformance we expect during deep bear market declines.
Whether you're using the specific 50/40/10 blend or a different combination, we think most SMI readers can benefit from blending these strategies in some fashion. Based on historical averages, it's reasonable to expect that this bear market may only be halfway done. If that's true, the recent performance of these strategies indicates they should be an excellent place to weather the remainder of this bear market.