The third quarter started on the heels of a summer bombshell: The surprising result of the June 23 Brexit vote to leave the EU briefly stunned investors and roiled global markets. But the U.S. stock market quickly shook off any lasting impact and surged to new highs as the third quarter unfolded. It was a surprisingly swift pivot back to greater risk-taking, as foreign and smaller stocks took over the leadership position from their larger-stock counterparts.
SMI investors rode this market rebound to new all-time highs in several of SMI's model portfolios during the third quarter. Just-the-Basics and Stock Upgrading both finished the third quarter at all-time highs, while our 50-40-10 portfolio also touched a new high during the quarter. Despite all the fear and uncertainty that has surrounded the market over the past year (including a pair of separate 10% market corrections), the most profitable path for SMI readers has been to tune out the noise and stick with their long-term plans.
Performance table reminder
SMI includes an updated performance table on the back cover of each monthly issue (it's also available on the homepage of the SMI website for members who are logged in — look for the "Performance" tab just below the four small pictures). This table expands the previous reporting of SMI's strategy results to include all of SMI's strategies and is updated every month, rather than just quarterly. Referring to that table may be helpful as you read this article.
Just-the-Basics (JtB) & Stock Upgrading
Both JtB and Stock Upgrading beat the Wilshire 5000 broad market index in the third quarter. That's not a big surprise given that foreign stocks and smaller stocks outperformed larger U.S. stocks. The Wilshire 5000 Index, like the S&P 500 and most of the other prominent U.S. stock indexes, are dominated by the performance of larger stocks, whereas these two SMI model portfolios allocate significant portions to foreign and smaller stocks.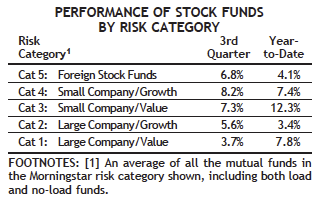 The table on the right shows the strong turn toward foreign and smaller stocks during the third quarter. This is somewhat surprising, given that large stocks usually dominate the latter stages of bull markets where (according to most experts) we appear to be at present.
It's also worth noting that both JtB and Stock Upgrading have posted healthy, double-digit returns over the past 12 months. Few would have predicted that a year ago, when the market was just starting to recover from its first correction in four years — especially if they'd known a second correction was coming a few months later! It's a good reminder that the market is full of surprises, but tends to reward those who patiently and consistently endure its short-term gyrations in pursuit of its long-term rewards.
Bond Upgrading
After strong gains during the first half of 2016, the bond market cooled during the third quarter. The Fed continued its game of "will they or won't they?" in terms of raising rates, but ultimately held them steady. The 10-year Treasury yield started the quarter at 1.46% and rose to a high of 1.73% in mid-September before settling back to close the quarter at 1.60%.
SMI's Bond Upgrading portfolio had a small gain of +0.2% during the quarter. That's not much, but given the strong bond profits during the year's first half, the portfolio is sitting comfortably on a +5.3% year-to-date gain. That's a significantly better performance for bonds than most expected at the beginning of 2016, particularly given the first Fed rate hike last December and the expectation at the time that more would quickly follow.
Dynamic Asset Allocation (DAA)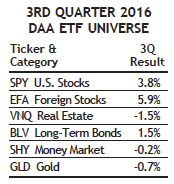 Still, it's interesting to note that while DAA and Stock Upgrading have been moving out of synch with each other through much of this year (DAA had a great second quarter and weak third quarter, while Stock Upgrading was the opposite), they both have similar year-to-date returns nine months into 2016. That's the point of pairing them in portfolios (as we do in the 50-40-10 portfolio, discussed a bit later) — to diversify your overall portfolio so there's always something doing well.
DAA served us wonderfully as a "risk-off" buffer during the second quarter, gaining nearly +7% while invested in the traditionally less-aggressive asset classes of gold, bonds, and real estate. That's important context for its sub-par performance during the third quarter, during which it posted a slight loss (-0.4%). When the market shifts from favoring conservative assets (such as bonds and gold) to more aggressive ones (like stocks), it's usually going to take DAA some time to respond to those changes. Not surprisingly, then, the DAA lineup changed at both the end of August and the end of September, but those changes were too late to have much of an effect on third-quarter performance.
Sector Rotation (SR)
Similar to DAA, SR gave back a little of its exceptional second-quarter gain in the third quarter, finishing with a small loss of -1.2%. SR had lept +10.3% higher during the second quarter, driven by investor fears and the continuation of absurdly low interest rates. The telecom stocks SR owned at the time appeared to be an attractive, safe option for yield-seeking investors, given that traditionally "safe" stocks like AT&T pay high dividends.
But, as often happens, the enthusiasm for those telecom stocks got a little overblown, and in the third quarter it wasn't long before they were hit with the double-whammy of rising interest-rate expectations (cutting into their value as future yield alternatives) and a rallying stock market (which makes riskier stocks look more attractive relative to the "boring" dividend-payers). Not surprisingly, SR made a change away from telecom at the end of August, and the newly recommended fund performed quite well in September, gaining +5.5%. At any rate, it's hard to be too disappointed in a small quarterly loss when SR is up a stunning +27.8% annualized over the past five years.
50/40/10
This portfolio refers to the specific blend of SMI strategies — 50% DAA, 40% Upgrading, 10% Sector Rotation — examined in detail in our May 2014 cover article, Higher Returns With Less Risk: The Best Combinations of SMI's Most Popular Strategies. It's a great example of the type of diversified portfolio we encourage most SMI readers to consider. As we've seen at several intervals over the past year, the markets can shift suddenly between rewarding risk-taking and punishing it, so a blend of higher-risk and lower-risk strategies can help smooth your long-term path and promote the type of emotional stability that is so important to sustained investing success. (Blending multiple strategies adds complexity. Some members might want to use an automated approach.)
With DAA and SR cooling significantly after strong second-quarter returns, Stock Upgrading had to pick up the slack this quarter. Thankfully it did, helping our 50-40-10 model portfolio reach an all-time high in July. Overall, the portfolio had a modest gain of +1.5% for the quarter. But this type of "steady plodding" (Proverbs 21:5) really does bring prosperity, while providing the type of lower-volatility path that helps keep investors from abandoning their plans when market conditions turn rough. The year-to-date returns from the 50-40-10 portfolio are slightly higher than either DAA or Stock Upgrading individually, and of course they've been delivered with less quarter-to-quarter volatility.
The performance of the three strategies included in the 50-40-10 portfolio will vary significantly over time, but diversifying among them in this way will smooth an investor's journey considerably. Whether you're using this specific 50/40/10 blend or a different allocation combination tailored to your specific risk preferences, we think most SMI readers can benefit from combining these strategies in some fashion. If you are an existing member, please Login.