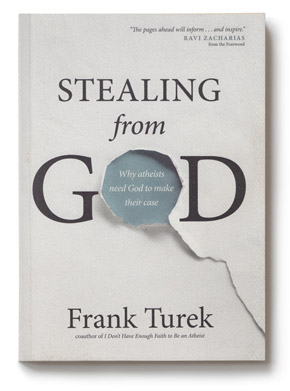 In December 1995, I began what has become a Christmas tradition here at SMI: offering, as a gift to our subscribers, a book that has been meaningful to me in my Christian walk.
I do this to express appreciation for your support. Without loyal readers, we could not have served the body of Christ these past 25 years. Also, I want to encourage you in areas beyond the mechanics of stewardship. How we handle God's money is important, but it also pleases the Father if we are always "prepared to give an answer to everyone who asks [us] to give the reason for the hope that [we] have."
That's why I've decided to offer something a little different this year — a book on apologetics titled Stealing from God: Why Atheists Need God to Make their Case by Frank Turek. I took this book along on my beach vacation last spring, and thoroughly enjoyed the logic of Turek's presentation and his ability to point out the self-refuting arguments put forth by skeptics. It's not only a great book to read, but also to give as a gift to high- school and college students to equip them to withstand the assault on their faith from an increasingly hostile culture.
Following is an excerpt from the foreword of the book by noted apologist Ravi Zacharias. To learn how to qualify to receive your gift copy, see the note at the end of this article. If you are an existing member, please Login.