The new year is getting off to an exciting start here at SMI!
In January, we introduced our new Dynamic Asset Allocation strategy, and this month we're announcing a major upgrade (including a much-improved user interface) to our most popular web tool, our Personal Portfolio Tracker. If you're an SMI member, you'll want to test drive it ASAP. If you're not, this is one more reason to join (sign-up for a web membership)! Why? Because the Tracker makes it much easier to implement our momentum strategies in your investment accounts. Let me explain how.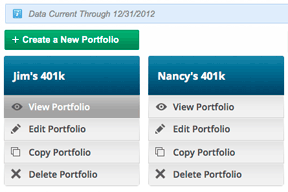 You start with a list of mutual funds you want to follow. They may be the ones in your company's 401k plan, a college savings plan, or perhaps the funds offered at a fund organization such as Fidelity. You can have as many lists as you want.

For each list, you create a "portfolio" in the Tracker. In the example at right, Jim and Nancy both participate in 401k plans at work and would like to monitor the performance of the funds available to each of them. So, a portfolio is created for Jim and one for Nancy, listing all their fund options. Then, the Tracker allows them to "flag" the funds they currently own.

Each month when the new issue of SMI is posted online (around the 25th, in time to enter any fund trades before the end of the month), Jim and Nancy can generate updated performance reports with a few mouse clicks. A portion of Jim's is shown below.

The report ranks the funds in Jim's 401k by performance momentum. It also displays each fund's ticker, name, and performance over the past 1-, 3-, 6-, and 12-month periods. At a glance, Jim can see how the funds he currently owns (i.e., the ones he has flagged) are doing. If he's following SMI's suggested method of investing in a 401k, he will want to make sure that the funds he owns are among the top-ranked funds each month. (Read more about choosing funds in your 401k in a related article Using SMI's Portfolio Tracker to Manage A Limited 401(k) Plan.) Based on the rankings, the report shows which funds may need to be sold and which are good candidates to be bought.
The columns are sortable, so if Jim wants to see how funds rank based on, say, the past three months only, all he has to do is click on the three-month column.

There are two report formats. The one shown below is the "Momentum View." In this format, risk categories are ignored. However, there's also a "Category View" that ranks all the funds in a portfolio within their respective risk categories.
In addition to improving the Tracker interface, we have responded to the requests of SMI readers by expanding our database so it now includes more than 20,000 fund tickers! I'm excited about the ease of use and capabilities of our Tracker upgrade. I hope you'll put it to work in managing your investing accounts—it will help you implement changes more promptly and profitably. If you are an existing member, please Login.