We've been pointing out for some time that stocks are trading at extremely elevated prices — by some measures, they've only been more expensive at the peak of the dot-com bubble. But we've also noted that stock valuations are a notoriously poor guide to the timing of market trend changes. Stocks can continue to get even more expensive for an extended period of time (as they did in that dot-com era).
One factor that has been surprisingly absent as stock prices have tripled over the past 8½ years has been investor bullishness. In fact, it's become popular to label this bull market some variation of "the most hated bull market of all time." It's impossible to know if that's really true, but it is indisputable that investors have, by and large, doubted this bull market all the way along, from its earliest days until recently.
And there's been plenty to worry about, as the chart below from Michael Batnick of The Irrelevant Investor shows: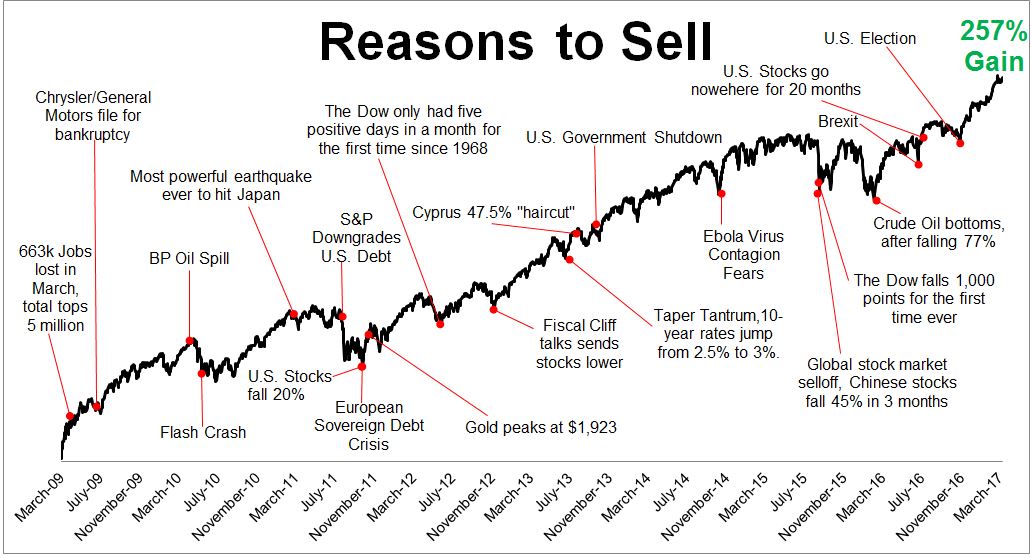 But a curious thing has happened over the past 18 months. Individual investors have finally gotten over their fear of this bull market. And if you know anything about market history, that's a scary omen. As Wolf Richter points out in "Finally the Contrarian Warning from Small Investors," they did the same thing just before the 2000 dot-com crash.
From Richter's article:
The quarterly Wells Fargo/Gallup survey of investors with at least $10,000 in the markets, undertaken in the period between July 28 and August 6 when the Dow Jones Industrial Average was approaching and then exceeded 22,000 (now at 21,798), investor optimism about the stock market did something very special — something it hadn't done in 17 years:

68% of these investors said they're optimistic about the stock market's performance next year.
This matches the prior records set in December 1999 and January 2000. Peak optimism occurred two and three months before one of the most epic crashes commenced in March 2000.
25% of the investors said they're "very optimistic," an all-time record, besting the prior record of 24% set in the first quarter of this year. This is up from 11% a year ago!
Here's Gallup's chart of the past 20 years of small-investor optimism. With valuations already hovering at 2000 dot-com peak levels, watching investor sentiment speed toward 2000 bubble extreme levels is another long-missing piece of the puzzle clicking into place. Many people have said the end of this bull market isn't likely until investors grew more optimistic/euphoric. We're not at 2000 peak levels yet, but we're closer than we've been at any time since that bubble burst.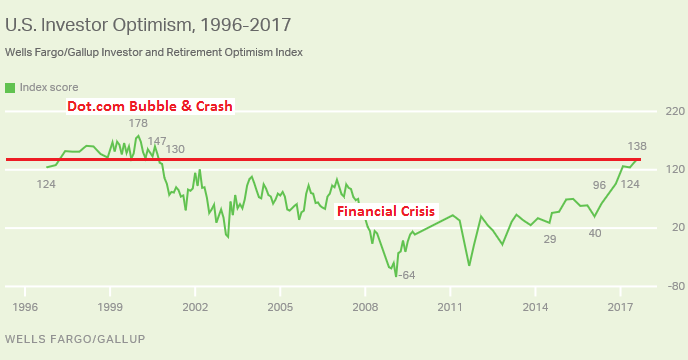 Like valuation, sentiment is a less-than-perfect guide to the timing of the next bear market. As the chart shows, this measure of investor sentiment stayed above today's level for a few years in the late 1990s, ultimately peaking at 178 (vs. the recent reading of 138) before collapsing. But today's level of optimism has already eclipsed that of the period immediately prior to 2008's Financial Crisis.
This is another example of what we discussed in SMI's September cover article, Facing Your Fears: Modeling the Impact of a Significant Bear Market on Your Financial Plan, pointing out that the conditions necessary for the next bear market are increasingly already in place. While that doesn't tell us when the market's trend will change, it does require us to start taking seriously the possibility that a bear market could begin at any time. It may not happen for a while, but we have to prepare as if it could.
If you haven't read that cover article and worked through the implications of the next bear market on your personal financial plan, this is just one more encouragement to do so.