SMI's desire has always been to make investing as simple as possible for the average reader. That's why we're making a change in how we present our Upgrading recommendations.
From now on, we will present only three fund recommendations for each risk category, rather than four.
Background
Given that many readers regard our various fund strategies and recommendations as SMI's "bread and butter" content, it may be surprising to some that SMI didn't make specific fund recommendations in its first two years. It wasn't until January 1992, in response to reader requests, that specific fund recommendations for Upgrading's various risk Categories were listed, and even then only one fund per Category was shown.
That changed four years later when the number of recommendations per category increased from one to four. We expanded the number of options for two reasons: first, to provide alternatives in the case a given fund wasn't available to all readers, and second, to provide for greater diversification (some readers felt uncomfortable investing large amounts in a single fund per risk category).
Although we began listing more funds, we emphasized that Upgrading required the purchase of only one fund per category. So it wasn't that Upgrading as a strategy required more fund options, but rather that adding more funds met the fund availability need (and the desired added diversification for some readers). The four-option system has worked well for many years.
What we have discovered, however, is that making four recommendations per category has given the impression that Upgrading is more complicated than it actually is. Additionally, listing four funds per category has resulted in more Upgrading transactions throughout a year, as well as creating a need for more new-fund write-ups. To a new subscriber, all this can make it seem like there's a lot of work in maintaining an Upgrading portfolio.
Performance impact: negligible
After looking at several ideas in an effort to simplify the Upgrading process for readers, we've come up with one simple step to reduce the apparent complexity of Upgrading a bit: lowering the number of fund recommendations per category from four to three. Showing three funds still meets the need to offer alternatives if the top-ranked fund is unavailable, and continues to provide further diversification options for those who want that.
Naturally, we wanted to understand what, if any, effect on performance such a change would have. The table below shows the results of three different Upgrading approaches applied over the past 15 years: owning four funds in each category, owning three funds per category, and owning only the top-ranked recommendation in each category. (In the "own only one" method, the top-ranked fund in the category is held until it is replaced as a recommended fund, not simply until it falls out of the #1 slot.)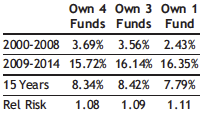 As you can see from the summary table at left, the rate-of-return numbers for the overall period are very close. There was virtually no difference between owning three funds versus four, either in terms of return or risk. Owning only the top-ranked fund per category did slightly reduce returns for the entire 15-year period, and did increase volatility negligibly. But owning just one fund per category also makes Upgrading significantly easier to implement — enough so that we feel it's worth the tradeoff for most readers.
Interestingly, the performance numbers seem to shift depending on the overall trend of the market. The more concentrated and slightly more volatile "own only one" portfolio performed slightly better during rising markets (2009-2014), while the more diversified Upgrading approaches (owning three or four funds) fared better during the 2000-2008 period that was bookended by two nasty bear markets.
Implementation
Starting this month on the Upgrading Recommendations page, readers will find only three recommended funds per stock risk category. Our recommendation for most readers as they begin Upgrading is to simply buy the #1 ranked recommended fund in each of the five categories. This will reduce the size of an Upgrading portfolio to an easily manageable five stock funds, with the possibility of an additional three funds for those including a bond allocation.
That said, for readers who prefer to own more funds in each category, that option still will be easy to implement. Nothing will change for those readers unless they want to own more than three funds in each category, in which case the Personal Portfolio Tracker and Fund Performance Rankings continue to be available as resources to help identify additional attractive holdings.
Transition Phase
The biggest question most readers are likely to have regarding this change involves the transition phase. Starting immediately, there is suddenly one fund in each category that was formally recommended last month and no longer is this month. Our small-value category currently has one recommended fund below the quartile cutoff, which makes it easy to reduce holdings in that category from four to three. However, all of the other risk categories contain four recommended funds that are still above the quartile cutoff of their respective peer groups.
Here's how we've decided to handle this transition. We're making the switch to three formal recommendations immediately, which is reflected on the Upgrading Recommendations page. But we're going to continue tracking the five funds being removed from that page this month. An update on these funds will appear as a separate article each month, much as new fund write-ups do. This way, readers who already own these formerly recommended funds that are still performing well can continue holding them as long as they stay in the top quartile. Each month we'll report on their status and alert readers when each one eventually drops below the quartile. At that point, it can be sold and the proceeds reinvested into the recommended fund or funds you own in that risk category. Of course, it's perfectly fine to go ahead and sell these extra funds now if you prefer, streamlining your Upgrading portfolio immediately. But we don't want readers to feel like they have to do that if they prefer not to.
Main takeaways
First, there's no reason to continue recommending four funds per category when three accomplishes all of our goals while also reducing the perceived complexity of the system. Recommending only three (rather than four) offers greater simplicity and fewer transactions with virtually an identical risk/return profile.
Second, we're re-emphasizing SMI's official stance that successful Upgrading only requires owning one fund per risk category. Owning more funds and getting (slightly) higher returns may sound appealing, in theory. But any advantage quickly disappears if your execution of the strategy slips due to the higher level of upkeep required.
In the past we may have given the impression that more is better. We want to reverse that way of thinking in terms of the official strategy because we feel making the process simpler for Upgraders is a worthwhile tradeoff. Better to implement the strategy faithfully (and promptly!) with one fund per category than to Upgrade poorly with more funds. (Of course, there's nothing wrong with owning more funds if you're up for the extra work.)
Related to that point is the issue of how SMI calculates the official performance of Fund Upgrading. We feel that if we're going to list three official recommendations in each category, our performance reporting should include all three of those funds. That means the only way you're going to get the same results we publish is if you also own all three in each category. This is what drove many readers to own all of the recommended funds in the past. However, the research presented earlier in this article indicates the performance advantage of owning more funds is minimal.
In other words, owning only one fund in each category likely will cause your performance to be slightly different than SMI's official result, but there's little reason to think it will be substantially worse. On the other hand, there's little question that the implementation of Upgrading will be substantially easier. So rather than trying to replicate our exact results, your goal should be to follow the system faithfully, however you choose to implement it.
For most members managing their own Upgrading portfolio, we think keeping it as simple as possible is helpful. Owning a total of only five stock funds does that.