Christmas is approaching, and, in keeping with our long-standing tradition, I have a gift for you! It's a book — one that has been meaningful to me in my personal devotional life. I offer it to you with the prayer that you will be encouraged in your contemplation and worship of the Lord Jesus Christ.
This year the book is Seeing and Savoring Jesus Christ by John Piper. In its 13 brief chapters, Piper invites his readers to consider with him 13 facets of the glory of Christ. From the introduction: "There is no more important issue in life than seeing Jesus for who he really is and savoring what we see above all else." Below is an excerpt from chapter two, "Jesus Is the Glory of God." It seemed a natural choice for our Christmas meditation. – AP
Christ does not exist in order to make much of us. We exist in order to enjoy making much of him.
To know the glories of Christ is an end, not a means. Christ is not glorious so that we get wealthy or healthy. Christ is glorious so that rich or poor, sick or sound, we might be satisfied in him.
The first particular glory that upholds all the rest is the mere eternal existence of Christ. If we will simply ponder this as we ought, a great ballast will come into the tipping ship of our soul. Sheer existence is, perhaps, the greatest mystery of all. Ponder the absoluteness of reality. There had to be something that never came into being. Back, back, back we peer into endless ages, yet there never was nothing. Someone has the honor of being there first and always. He never became or developed. He simply was. To whom belongs this singular, absolute glory?
The answer is Christ, the person whom the world knows as Jesus of Nazareth.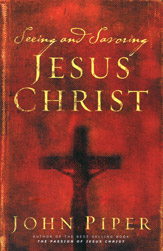 The apostle John, who wrote the last book of the Bible, received the decisive revelation. He quotes God: "'I am the Alpha and the Omega,' says the Lord God, 'who is and who was and who is to come, the Almighty'" (Revelation 1:8).
This is not Christ talking. This is the Almighty God. He calls him­self "Alpha and Omega" — the first and last letters of the Greek alphabet. In the alphabet, one cannot speak of anything (or nothing) before alpha. There is no "before" alpha in the alpha­bet. Nor can one speak of anything (or nothing) after omega. There is no "after" omega in the alphabet.
So it is with God and reality. There is no "before" God and no "after" God. He is absolutely there, no matter how far back or how far forward you go. He has the unique honor and singular glory of always having been, when nothing else was. Nor will he be outlasted by anything. This is what it means to be God.
The apostle John quoted Christ near the end of his Revelation: "Behold, I am coming quickly.... I am the Alpha and the Omega, the first and the last, the beginning and the end.... I, Jesus, have sent My angel to testify to you these things for the churches" (Revelation 22:12-13, 16).
This is Christ talking, not God the Father.
Now, two cannot be "Alpha and Omega" unless they are one. Two cannot be absolutely "first and last" unless they are one. Yet Christ claims for himself the same honor and glory belonging to God the Almighty (see also Revelation 1:17-18; 2:8). Nothing greater can any man say of himself. It is true, or it is blasphemy. Christ was God or godless.
John knew which. "In the beginning was the Word, and the Word was with God, and the Word was God . . . . And the Word became flesh . . . the only begotten from the Father" (John 1:1, 14). Jesus Christ, the "Word," was "begotten," not made — and not at any point in time, but eternally. This is a great mys­tery, as we would expect it to be. But it is what God has revealed about himself.
The apostle Paul also knew the unique glory that belonged to Christ. He is "the Christ according to the flesh, who is over all, God blessed forever. Amen" (Romans 9:5). Nevertheless, "although He existed in the form of God, [He] did not regard equality with God a thing to be grasped, but emptied Himself, taking the form of a bond-servant" (Philippians 2:6-7). Therefore, "in him the whole fullness of deity dwells bodily" (Colossians 2:9 RSV; Colossians 1:19). And we Christians are now waiting, not for a mere man, but for "the appearing of the glory of our great God and Savior, Christ Jesus" (Titus 2:13; see also 2 Peter 1:1).
Jesus Christ is the Creator of the universe. Jesus Christ is the Alpha and Omega, the first and the last. Jesus Christ, the Person, never had a beginning. He is absolute Reality. He has the unparalleled honor and unique glory of being there first and always. He never came into being. He was eternally begotten. The Father has eternally enjoyed "the radiance of His glory and the exact representation of His nature" (Hebrews 1:3) in the Person of his Son.
Seeing and savoring this glory is the goal of our salvation. "Father, I desire that they also, whom You have given Me, be with Me where I am, so that they may see My glory which You have given Me" (John 17:24). To feast on this forever is the aim of our being created and our being redeemed.
---
This offer is for currently active SMI subscribers and web members only. To receive your gift copy, send your written request postmarked no later than December 20, 2012, to the following address:
Christmas Gift Book
Sound Mind Investing
Ste 202 9700 Park Plaza Ave
Louisville KY 40241-2287
(Please no phone calls or emails. You should receive your book by the end of January.)
After the requests are received and tallied, we'll order the number needed. (Please don't request this gift book unless you are committed to reading it — the costs of sending out hundreds of books is substantial.)
We offer it to you in appreciation for your support of our efforts here at SMI, and with the joyful hope that this gift will be an encouragement to you as you walk with Christ in 2013. May you and your loved ones have a spiritually rich and fulfilling celebration of Christ's first coming as you enjoy seeing and savoring the Son. If you are an existing member, please Login.