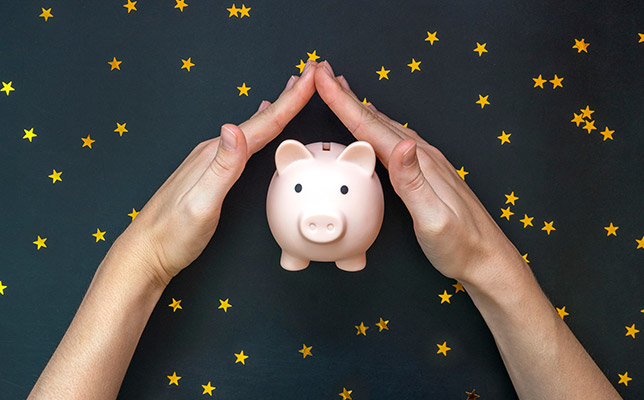 Many retailers generate about a fourth of their annual revenues during the period between Thanksgiving to Christmas. No wonder they pull out all the promotional stops during that time, including their most most-hyped shopping events (Black Friday and Cyber Monday) and their most aggressive buy-now-pay-later pitches.
Sure, you can find some good deals, but be careful. Don't be manipulated into buying things you don't need or making purchases that will blow a hole in your budget. These guidelines will help you resist this year's marketing push and spend your dollars wisely.
If you don't have it, don't spend it.
We rarely suggest looking to a TV show for financial advice (even financial programs!), but years ago Saturday Night Live aired a comedy skit that made an excellent point. The advice worth heeding was in the skit's straightforward but humorous title: "Don't Buy Stuff You Cannot Afford."

Of course, we all know we shouldn't buy stuff we can't afford, yet we sometimes do it anyway. At this time of year, the temptation to buy the unaffordable is particularly potent. Our natural desire to show love and appreciation for family and friends by giving them gifts can cause us to get swept along by a flood of emotion-tugging commercials and seemingly generous financing deals.

Beware of "buy now, pay later."
An increasingly popular payment option is "buy now, pay later" (BNPL), facilitated by third-party apps such as Affirm, Klarma, Sezzle, and AfterPay. BNPL apps typically allow the user to "Pay in 4" — i.e., spread the cost across four equal payments that are due every two weeks, often without interest or fees. (A few BNPL services charge a per-payment fee. Read the fine print.)

Taken at face value, those are attractive terms. But by separating the pleasure of buying from the pain of paying, BNPL apps (like credit cards) feed the temptation to over-extend. And if you don't make the payments on time, that attractive free financing will be replaced by penalties and interest.

A more insidious financing arrangement — commonly offered in conjunction with large-ticket purchases — is the "no-interest-for-a-year (or more) plan." This seems like an attractive option, but that is true only if you pay the bill in full before the final due date. Otherwise, this particular financing deal will come back to haunt you big time.

Let's say you decide to treat your family to a new television. Instead of coming up with the entire $3,799.99 for today's top OLED smart TV with a 65-inch screen and 4K resolution, you sign up for a 24-month no-interest arrangement.

We recently found such a plan offered by a major retailer. Here are the terms: The buyer must make monthly payments of $158.34 (which will pay off the purchase in 24 months). During those 24 months, interest will accrue at 25.24%(!) APR, beginning on the day of the purchase. The buyer won't have to pay that interest as long as the entire balance is paid in full by the final due date.

However, if the buyer fails to pay in full before the 24 months ends, the retailer will add the entire two years of deferred interest to the bill. As the financing disclosure states: "We will impose interest charges on the deferred interest balance at the APR for regular purchases from the date of purchase if you do not pay the balance in full by the end of the promotional period" (we've added italics for emphasis).

That means if the bill isn't paid in full by the end of the 24 months, the buyer will pay $2,462 in interest, making that new 65-inch TV cost well over $6,000!

Watch out for pricey add-ons.
With some purchases, you have to factor in the cost of related items. Take that TV we just mentioned. What about cables? A wall mount? A soundbar? And don't forget the extended warranty to "protect your purchase." All of that could tack on several hundred more dollars.

(Speaking of extended warranties, do you need one? Consumer Reports generally recommends taking a pass because manufacturer warranties typically cover the period when a product is most likely to fail. Another thing to consider: Your credit card company may provide an extended warranty for free. Find out before you go shopping.)

Don't get caught up in the Black Friday craze.
The promise of Black Friday — that "one-day-only" extravaganza that now seems to encompass most of November — is that you can "save big!" But can you? Maybe.

Many retailers do offer deep discounts on "doorbusters" — usually a small selection of items sold on a first-come, first-served basis (either in-store or online). But, according to the website Nerd Wallet, other Black Friday "specials" may not be as special as they seem.

"Retailers sometimes inflate the discounts and pull other pricing tricks," the site notes. "Don't buy something just because it's supposedly '60% off.' Compare its regular price with its sale price yourself — and find out how the item is priced at other stores." In other words, that "super discount" may not be as super as the ads suggest.

Don't wait too late — especially this year.
Time pressure can be an enemy of wise spending decisions, so it's rarely a good idea to wait until the last minute to do Christmas shopping. But this year, there's another reason to shop early: Demand might exceed supply. Supply-chain slowdowns are affecting the availability of everything from shoes to semiconductors used in electronics. That means shopping late could be too late.

Also, bear in mind that with international shipping costs up sharply, retailers have less pricing flexibility. So waiting for last-minute discounts isn't likely to be an effective strategy this year.
Keep Christmas shopping in perspective
Assuming you shop wisely and can afford your purchases, buying thoughtful gifts for friends and family is commendable. But do your best to turn a deaf ear to the marketing hype that orients us away from the main thing.
Christmas isn't about Black Friday or Cyber Monday or snagging a "good deal." It is the celebration of the greatest gift: Jesus Christ, the One who came from heaven to earth that we "may have life and have it abundantly" (John 10:10). He is the true treasure.