The current issue of Barron's has a summary of the S&P 500's year thus far, as documented by analyst Sam Stovall of CFRA Research:
The Standard & Poor's 500 index continues to confound skeptical investors, as it adds to its above-average number of new highs — 32 through Sept. 12, more than twice the annual average since 1945 — while enduring an anemic number of 1%-plus volatility days — eight, versus an average of 50 per year since World War II....

In addition, should the S&P 500 close September with a gain, it will be the 17th time since 1945 that the market was up in both August and September — its two most treacherous months.

History then reminds us that subsequent to these consecutive monthly advances, the S&P 500 gained an average 2% in the final three months of the year and rose 13 of 16 times, slipping less than 1.3% each in the final three months of 1983, 2007, and 2012.
Past performance, of course, is no guarantee of future results. Maybe there will be a correction between now and year's end.
Still, it is worth noting that the S&P 500 — now at about 2,500 — has exceeded (by nearly 7 percent) the 2017 average forecast made by experts from prominent investment-banking firms, as published last December by Fortune.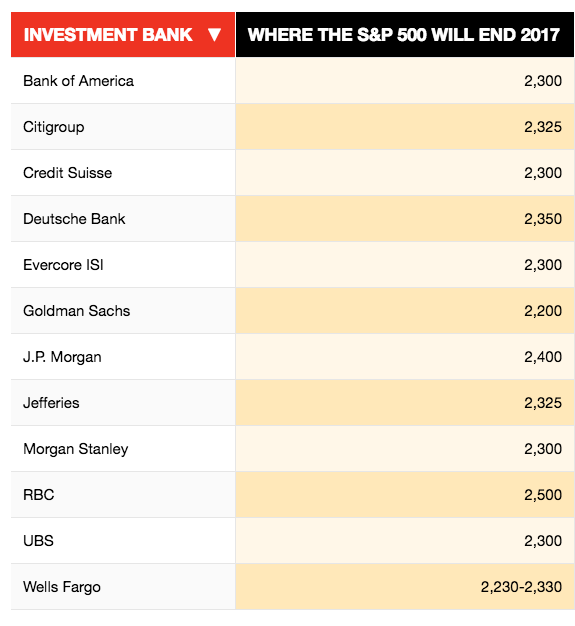 Again, some of these expert forecasts may end up being right, depending on what unfolds in the 4th quarter. But if the current trend holds for the next 15 weeks, every expert represented above will have been wrong. All of which is to say that even the best and brightest can't predict accurately and consistently how the markets will perform.
Be prudent as you consider the advanced age of this bull market. But don't fall for the idea that anyone knows for sure what will happen next — or when. It just isn't so.