An increase in Medicare Part B premiums will eat into the 2022 cost-of-living adjustment announced last month by Social Security. (Part B covers physician services, outpatient care, certain home health services, medical equipment, and medications given in doctors' offices.)
Most people using traditional Medicare have their Part B premiums deducted directly from their Social Security. So a premium increase has a direct impact on a retiree's monthly SS benefit.
In addition to the Part B premium increase, the Part B deductible will be going up too. Here are the 2022 dollar amounts, announced in a news release from the Centers for Medicare & Medicaid Services (CMS):
The standard monthly premium for Medicare Part B enrollees will be $170.10 for 2022, an increase of $21.60 from $148.50 in 2021.

The annual deductible for all Medicare Part B beneficiaries is $233 in 2022, an increase of $30 from the annual deductible of $203 in 2021.
Those are steep increases. In percentage terms, the Part B premium is going up 14.5%, and the Part B deductible is rising by 14.8%. (In contrast, Social Security's cost of living increase for 2022 is 5.9%.)
The Part B surcharge
The Part B premium noted above — $170.10 for 2022 — is what most users of traditional Medicare will pay. But higher-income Medicare recipients will pay more. They face a surcharge known as the Income Related Monthly Adjustment Amount (IRMAA).
The amount of the surcharge is based on one's Modified Adjusted Gross Income from two years earlier. (So 2022 IRMAA thresholds are based on 2020 income.)
Here's a CMS table showing the surcharge amounts and total premiums at various levels of income. The first column lists the brackets for single taxpayers. The second column shows the brackets for married couples filing jointly (the surcharge amount is per person).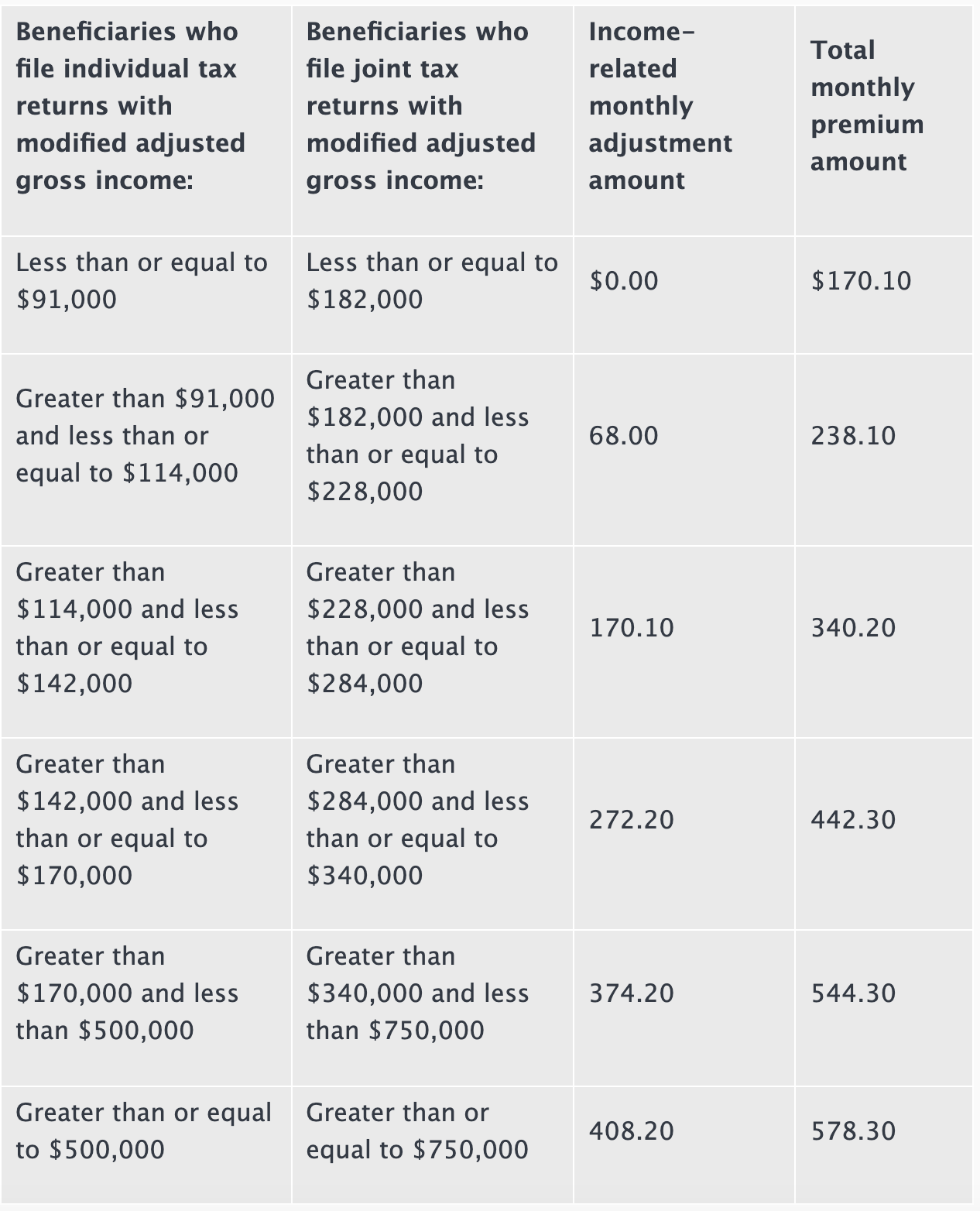 If you're facing an IRRMA surcharge in 2022 but your income is significantly lower than it was in 2020 (the year Medicare is using for reference), you can appeal. Medicare might drop the surcharge.
More increases for 2022 — and a decrease!
Some Medicare Part A (hospitalization) costs are going up next year too, as shown in this table: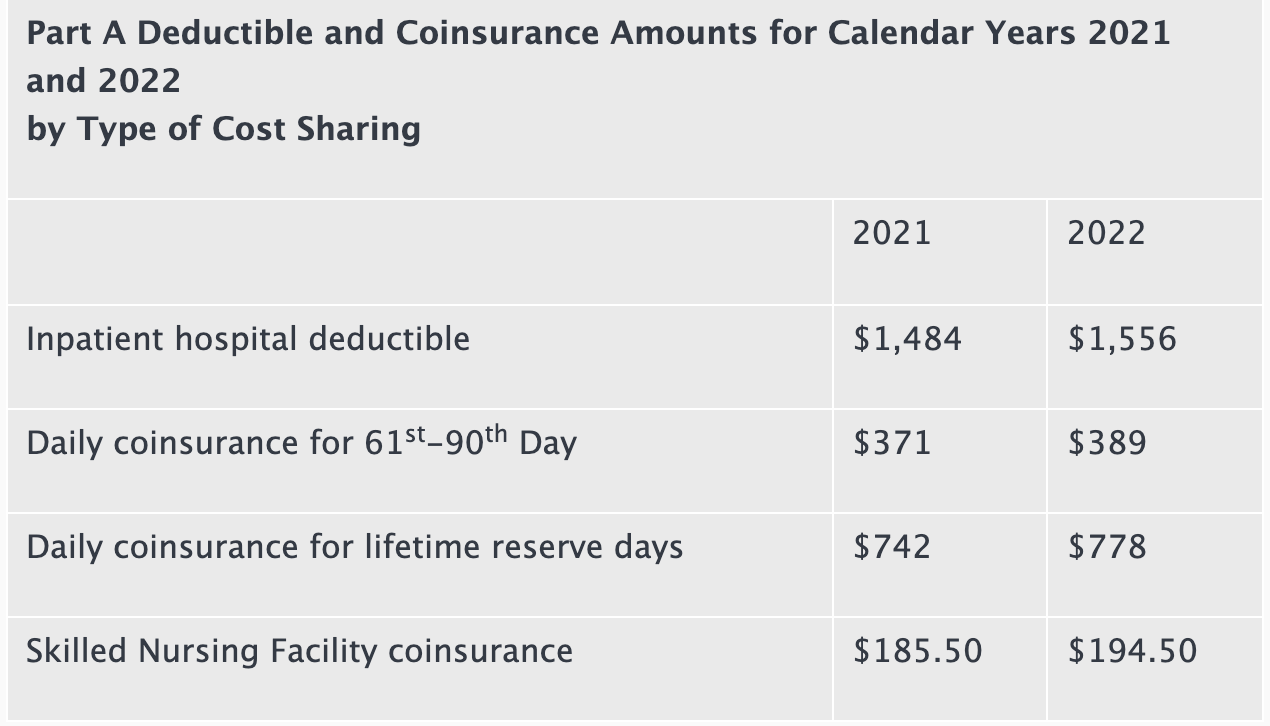 None of this is very cheery, but there is some relatively good news in the data released by the Centers for Medicare & Medicaid Services. The average 2022 premium for Medicare Part D — private health plans that cover prescription drugs — will be up only slightly in 2022: $33.00 per month, compared to $31.47 this year. (Again, higher-income beneficiaries pay more — income-related surcharges apply to Part D premiums too.)
Another bright spot: The average premium for Medicare Advantage plans will be lower next year than this year — $19 per month, compared to $21.22 in 2021. Medicare Advantage is the private-plan alternative to traditional Medicare.
Shop around
The annual Open Enrollment period for Medicare continues through Dec. 7, 2021. During Open Enrollment, people eligible for Medicare have the opportunity to compare plans/options and change coverage for the year ahead.