I recently answered a member question about the return of SMI's recommended bond funds so far in 2018. A primary focus of that reply was that, while of course we'd love to always earn great returns from our bond holdings, return really isn't the primary reason most SMI members own bonds.
No, the reason SMI portfolios include bonds is primarily for emotional stability — they provide ballast to a portfolio that helps us keep our emotions in check when the riskier stock portion of the portfolio is going crazy.
Like it has over the past week.
It's hard for some investors to pay much attention to the "theoretical" benefits bonds provide when stocks are surging forward, as they have in recent years. So I thought the recent stock market hiccup might make this a particularly opportune time to focus on this.
Managing emotional risk
Have you ever stopped to really think about why SMI encourages caution with a strategy like Sector Rotation? We have nearly three decades of experience with SR now, and it clearly has produced vastly superior returns to — basically everything else! Why not encourage investors to load up and just ride out the inevitable downturns, knowing that the long-term rate of return is likely to be the highest from that strategy?
The short answer is that we know from 30 years of experience walking with individual investors through market cycles that only the most risk-tolerant, iron-gutted members can handle the emotional volatility of a high SR allocation. There are a handful of people out there who could load up on SR and truly stick with that for the long haul. But the vast majority are simply not going to be able to do so, and are likely to make very damaging timing decisions with their portfolio if they try to.
Managing the emotional risk of investing is probably the most important aspect of long-term investing success. That's really what diversification, asset allocation, and all the other important investment principles point to if you trace them back far enough.
Applying this to bonds
Cullen Roche of Pragmatic Capitalism recently tackled the question, What Will Happen to Bonds if Interest Rates "Normalize"? It's an excellent discussion in its own right, and I encourage you to read the whole thing if that topic interests you (as it probably should if you have any money invested in bonds).
But I want to highlight just the last table of his article, because it gives us a great visual of market risk vs. emotional risk: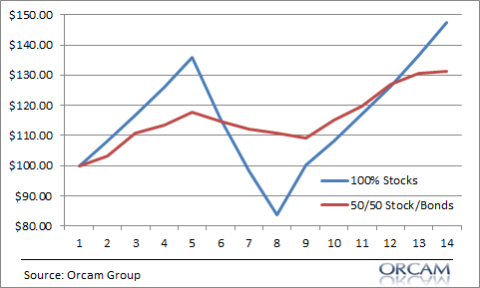 This is a hypothetical scenario Roche traces through a couple of prior iterations to arrive at, but basically, the blue line is showing the return of a 100% stock portfolio, while the red line shows the return of a portfolio split 50/50 between stocks and bonds. He has set up the example as a multi-year period featuring a five-year bull market, followed by a three-year bear market, followed by another multi-year bull market.
As you can see, the blue line (100% stocks) wins! Yay stocks! Everyone should be 100% stocks because they provide the highest returns, right?
Of course not — as the red line makes clear, investors with a portfolio diversified between both stocks and bonds earned a little less overall, but had a much easier emotional journey. Which — importantly — means they were less likely to make damaging emotional mistakes with their portfolio that derailed their long-term success.
Don't gloss over that and assume it only applies to "other people" because you're an emotionally stoic investor. Almost everyone who was investing a decade ago during the Financial Crisis remembers how tough a period that was and how hard it was to not make the emotional decision to sell stocks in the midst of that horrible bear market. Feeling that way didn't mean you were weak. It meant you are human!
How this should impact your portfolio
So, assuming you too are human and prone to this type of emotional pressure on your decision-making (like the rest of us), it's smart to build into your plan safeguards that help you get through challenging periods without damaging your long-term returns (by selling in the midst of downturns). You can apply this in several different ways. The traditional stock/bond allocation decision we've been looking at here is an obvious one. Another direct application involves the division of a portfolio between riskier strategies (such as SR) and less risky strategies (like DAA, and to a lesser extent, Upgrading 2.0).
The little pullback in stocks of recent days has provided a brief reminder of what investing stress feels like. Make no mistake, it gets way more intense than what we've just experienced! It's wise to use this brief episode as a catalyst to think carefully about the level of emotional risk you're equipped to handle successfully, and whether your current portfolio is tuned to that level of risk. If it's not, be grateful for the gains of recent years and get allocated more appropriately for downside risk.