In this month's Fund Performance Rankings, released last Friday, we added the ProFunds lineup of leveraged sector funds (shown below) to the various risk categories shown.
Because these funds are unusually volatile and not for the casual investor who may not understand the risks they present, we initially left them out of the new design for the FPR. However, since they are included in our Sector Rotation strategy universe of 120 funds and consequently may be recommended in SR from time to time (as one is at present), we have decided to include them in the FPR for the benefit of those members following the SR strategy.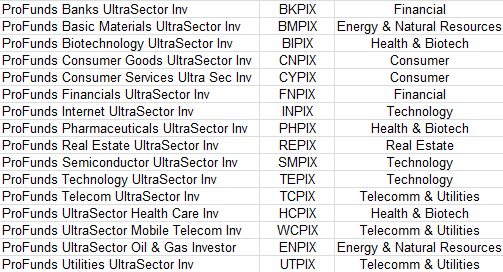 For more on the pros/cons of leveraged funds, be sure to review Leveraged Funds: Too Dangerous To Be Useful? from our June issue.
Because of the leveraging, these funds will typically generate above-average returns when their momentum scores are positive, and below-average returns when they're negative.
For examples of the former, look at ProFunds Real Estate UltraSector with a healthy momentum score of 77.3 (p26 of the FPR) and ProFunds Semiconductor UltraSector with a score of 96.6 (p28). Both are ranked #1 in their respective risk category. On the other hand, ProFunds Biotechnology UltraSector (momentum score of -4.9) and ProFunds Banks UltraSector (score of -19.4) are both ranked last in their categories (p31).
The leveraging can offer advantages when used selectively as part of a carefully constructed strategy, but it's a double-edged sword. Use with caution.