[This post has been updated with newly discovered information about low-cost MMF options at TD Ameritrade. See section below marked "UPDATE."]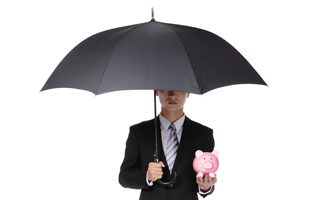 Upgrading 2.0, unveiled in our January issue, added a risk-management function to our established stock-fund Upgrading strategy. When there's an increased risk of significant pullbacks, we'll call for moving to "cash" positions rather than staying fully invested in stock mutual funds.
(This new protocol will be used rarely. See SMI's Fund Upgrading Strategy Evolves: Introducing Upgrading 2.0 for details.)
What are the options for "moving to cash" when the time comes? Typically, if you sell a mutual fund position and don't designate a new purchase, your proceeds will be deposited into your brokerage's low-paying "sweep" account. As noted in this recent post, such accounts pay extremely low rates — as low as 0.22% at Schwab, 0.04% at E-Trade, and 0.01%(!) at TD Ameritrade.
You definitely don't want that. So when we someday give a "move to cash" recommendation, where should you put your money?
You have two primary options. One, as Mark noted recently, is an exchange-traded fund such as SHY (the iShares 1-3 Year Treasury Bond ETF). The other is a money-market fund (MMF), a specialized mutual fund that invests in debt instruments issued by business or government.
Fortunately, SMI Upgraders with accounts at Schwab, Vanguard, and Fidelity have ready access to no-transaction-fee (and low-expense) MMFs. At Schwab, the Schwab Value Advantage Money Fund (SWVXX) is a good option. Vanguard has the Vanguard Prime Money Market Fund (VMMXX). At Fidelity, you can choose the Fidelity Money Market Fund (SPRXX).
Things are a little different at E-Trade. Because that particular brokerage firm doesn't have any in-house money-market funds, you have to search for funds from other companies. Using E-Trade's helpful search engine, I quickly located three available MMFs that have: 1) no transaction fee, 2) low-to-moderate minimums, and 3) relatively low expenses. They are:
| | | | |
| --- | --- | --- | --- |
| Fund Name | Ticker | Minimum Investment | Expense Ratio |
| DWS Treasury DWS US Treas Money S | IUSXX | $2,500 | 0.35 |
| American Century US Govt Money Market Inv | TCRXX | $250 | 0.46 |
| T Rowe Price Government Money Fund | PRRXX | $0 | 0.40 |

Slogging through TD Ameritrade's MMF data
The MMF news for TD Ameritrade customers isn't so good. It's not that TDA doesn't have plenty of options. It's that finding them isn't easy — and further, the company's $49.99 transaction fee will apply in almost every case.
Strangely, TDA offers no in-house money-market funds even though TD Asset Management has MMFs. They're just not available to TD Ameritrade customers. Huh? (A TDA rep told me the TD funds "are not available to new investors.")

OK. So TD's own funds are out. What else is available? Well, because of the limited functionality of TD Ameritrade's search engine, locating suitable MMFs is a tedious and time-consuming process. You have to look at each fund one by one. And that's a lot of funds!
TDA lists 252 "Prime" funds on its site, plus another 535 "Taxable" money market funds. (Prime funds invest primarily in corporate debt; Taxable funds invest mostly in various kinds of U.S. government debt.) That's nearly 800 funds in all. (And I didn't even check the Non-Taxable funds that invest in municipal debt!)
Slogging through the nearly 800 Prime and Taxable funds, I found that many of them, just like TDAXX shown above, are "not available." Many more are turned out to be "institutional" funds that require a minimum investment of $1 million or more. Still other MMFs carry front- or back-end sales loads.
Eventually, I was able to narrow the field of funds to about 100 that might be suitable for SMI investors. Whittling down further based on expense ratios (I picked funds with a ratio of 0.50 or less), I found fewer than 30 low-expense funds at TDA that were: 1) no-load, and 2) had relatively low minimums.
Unfortunately, out of all the hundreds of MMFs offered via TDA, only a handful are offered on a no-transaction-fee basis. All of those have either very high minimum investments or high expenses.
An interesting discovery
[UPDATE: But here, the plot thickens. Someone brought to my attention that the "required minimum investment" information shown on TDA web pages for money-market funds isn't always accurate. So I ran an experiment. I tried investing only $200 in a no-transaction-fee fund called Federated Prime Cash Obligations (PCOXX), even though the TDA site said the fund required a minimum investment of $500,000 (i.e., half a million dollars)!
Much to my surprise, my $200 order went through with no problem.
Further, I learned later from a TDA rep (again contrary to information on the TDA website) that PCOXX is not subject to the company's normal 180-day holding period. Any SMI investor with an account at TDA can trade in and out of PCOXX — a well-performing, low-expense (0.20%) money fund — with no transaction costs and with no concern about running afoul of TDA's short-term trading period. This means you could use this fund right now as a holding spot for any uninvested cash.
And it's worth noting that Barron's lists PCOXX (shown circled below) as a current top MMF performer: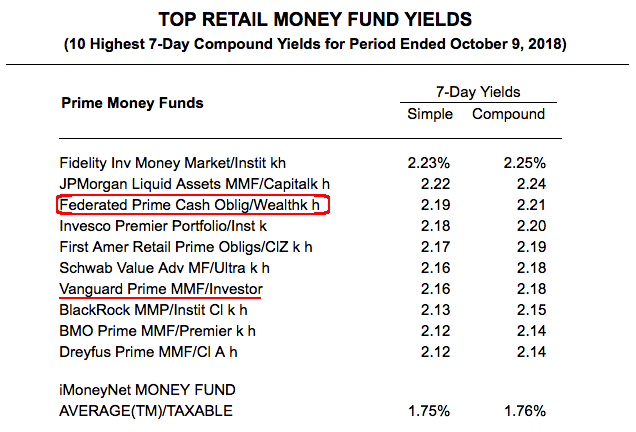 If you're an SMI member grandfathered into the Omnium/TDA program (a special program that, regrettably, TDA closed to new investors several years ago), you have another excellent MMF option.
Because Omnium/TDA members avoid TDA's $49.99 transaction fee, you can invest in the venerable, low-cost Vanguard Prime MMF (underlined above — ticker: VMMXX) without paying the transaction cost normally charged for this fund. Further, despite what the TDA website says, you can invest in this fund without making a minimum initial investment of $3,000. I invested only $200 in VMMXX and my order went through with no difficulty.
As with PCOXX, Vanguard Prime would not only be a great option for a cash holding within Upgrading 2.0 (when the times comes), it can serve right now as a means of earning a higher rate of return on any uninvested cash you have in your Omnium/TDA account. (Remember, TDA is otherwise paying only 0.01% on your uninvested cash.) There is no short-term redemption fee.
As noted in the original version of this post, TD Ameritrade offers a pretty good selection of no-load MMFs (see tables below), but for the lowest expenses and no transactions fees, it's now clear that the best options are the no-transaction-fee Federated Prime Cash Obligations (PCOXX) for "regular" TDA investors and Vanguard Prime MMF (VMMXX) for Omnium/TDA investors.
That said, we'll keep our original list here (see below) of TDA's relatively low-expense, no-load money-market funds (Prime and Taxable), showing their (possibly not accurate!) minimum investment requirements and current expense ratios. Note: None of these are NTF funds, but Omnium/TDA investors can avoid the transaction fees.]
Fund Name (Prime funds)

Ticker

Minimum Investment*

Expense Ratio

Vanguard Prime Money Market Fund Inv Shares
VMMXX
$3,000
0.16
TIAA-CREF Money Market Fund**
TPPXX
$0
0.29
T. Rowe Price Cash Reserves Fund
TSCXX
$2,500
0.45
BlackRock Money Mkt Portfolio Service Shares
PNPXX
$5,000
0.50
Putnam Money Market Fund Class M
PTMXX
$0
0.50
*Minimum-investment requirements as listed on the TD Ameritrade website may not be accurate. You can try investing an amount less than the minimum and see if the order goes through. **TDA offers three classes of this fund, with slightly differing expense ratios. All appear to be available to retail investors.
Fund Name (Taxable funds)

Ticker

Minimum Investment*

Expense Ratio

Vanguard Federal Money Market Fund Inv Shares
VMFXX
$3,000
0.11
Invesco Premier U.S. Govt Money Portfolio Inv Class
FUGXX
$1,000
0.18
Payden Cash Reserves Money Market Fund
PBHXX
$5,000
0.25
Harbor Money Market Fund Inst Class
HARXX
$1,000
0.28
DWS Government & Agency Securities Portfolio
DTGXX
$1,000
0.30
PIMCO Government Money Market Fund Class A
AMAXX
$1,000
0.33
DWS Treasury Portfolio – DWS U.S. Treas Money Fund
Class S
IUSXX
$2,000
0.35
Lord Abbett U.S. Govt & Govt Sponsored Enterprises
Money Mkt Fund Class C
LCCXX
$1,000
0.35
Morgan Stanley U.S. Govt Money Mkt Trust R Class
DWGXX
$1,000
0.37
Fidelity® Government Cash Reserves
FDRXX
$0
0.37
American Funds U.S. Govt Money Mkt Fund Class A
AFAXX
$1,000
0.38
T. Rowe Price U.S. Treasury Money Fund
PRTXX
$2,500
0.38
Voya Government Money Market Fund Class A
AEMXX
$1,000
0.40
T. Rowe Price Government Money Fund
PRRXX
$2,500
0.40
Fidelity® Treasury Only Money Market Fund
FDLXX
$0
0.42
Fidelity® Treasury Money Market Fund
FZFXX
$0
0.42
Fidelity® Government Money Market Fund
SPAXX
$0
0.42
*Minimum-investment requirements as listed on the TD Ameritrade website may not be accurate. You can try investing an amount less than the minimum and see if the order goes through.