Target-date mutual funds (TDFs) have grown rapidly to become among the most popular investments held in workplace retirement plans — such as 401(k), 403(b), and 457 plans.
With millions of people holding this type of investment, and with the bull market now past its sixth birthday, here is an important question: how well are such funds likely to hold up when the market changes directions (as it inevitably will)?
How do target-date funds work?
The popularity of target-date funds is due largely to the simple way they handle all-important asset allocation decisions — a task that many investors find complex and confusing.
With TDFs, you merely identify the year of your planned retirement and choose the fund with the target date that is closest to that date. For example, if you're planning to retire 20 years from now in 2035, you would choose the Fidelity Freedom 2035 fund, or the Vanguard Target Retirement 2035 fund, or the 2035 target-date fund from any of the many fund families that offer TDFs.
A target-date fund's asset allocation is initially set based on what its managers believe is an appropriate allocation for someone with that particular time horizon. That allocation then automatically becomes increasingly conservative as its target date approaches as the manager gradually reduces the percentage devoted to stocks and reallocates that to safer fixed-income investments.
It's important for investors to understand that just because various TDF versions may share the same target date, they're not all managed the same. Table 1 below shows the current stock allocations used in several TDFs at the three largest providers of such funds. These significant differences in allocations mean that significant performance differences can be expected as well.
Because TDF allocations vary widely, it's important to ask yourself when reviewing the asset allocation of any target-date fund you are invested in (or considering) whether the allocation fits your goals and risk tolerance.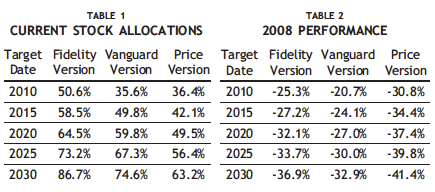 Some TDFs are designed to become very conservative by the target date, as if that is the end point. Others allocate as if an investor will retire at the target date but still have many years of retirement ahead, meaning a less conservative final allocation. It's important to recognize this difference and decide which approach you prefer.
Target-date fund performance in 2008
Of course, 2008 was a brutal year for the market, with the Wilshire 5000 index falling 37.2%. Table 2 above shows how some of the target-date funds from Fidelity, Vanguard, and T. Rowe Price performed.
Note that even the TDFs for investors on the cusp of their target retirement date, those investing in 2010 funds, lost a considerable amount in 2008. By contrast, our backtesting shows that SMI's Dynamic Asset Allocation strategy (DAA) would have generated a 1.3% gain in 2008 (note that DAA wasn't launched until 2013). Of course, this doesn't mean DAA won't ever lose money. But it clearly would have done a far superior job of protecting investor money in 2008 than the largest TDFs did.
It's worth noting the seeming inconsistency between T. Rowe Price's 2010 fund performance in 2008 (the biggest loss of the group) and its relatively modest stock allocation in Table 1. It appears that the company has changed its allocation formulas since the recession. A 2009 Chicago Tribune article about heavy losses experienced by target-date funds in 2008 noted that T. Rowe Price's target-date funds were initially designed to have a 55% stock allocation by the time they reached their target years. However, as the first table shows, its 2015 fund has a much lower 42.1% stock allocation today.
Many companies have made similar changes, although it's noteworthy how aggressive Fidelity's target-date funds continue to be. The lesson here is that it's not enough to just review your TDF's 2008 performance, you need to also check its current allocations in case its approach has changed.
DAA in your 401(k)?
Historically, we have not been overly directive in recommending one SMI strategy over another. We've simply explained how they work, noted their pros and cons, and let SMI members choose for themselves. However, when launching our new web site at the start of 2015, we made a consicious decision to include this statement in our Start Here section: "Because it combines simplicity, a strong track record, and protection during bear markets, DAA is currently our recommended approach for newer members wanting to get started with a single strategy."
That's not to say we think a 100% DAA portfolio is necessarily the optimal approach — we continue to believe that blending multiple SMI strategies is advisable for most readers (see our May 2014 cover article on the merits of a "50-40-10" approach). But if someone were going to choose only one strategy, as many new readers might, we wanted to make it clear that at this (seemingly) late stage of the bull market, we believe DAA is the best choice.
While no one can accurately predict what will happen next in the stock market, the age of the current bull market gives us reason to remind investors that such markets don't last forever and, at the very least, to encourage them to give careful thought to their investing time frame, risk tolerance, and comfort with their current approach.
Given that one of the most popular uses of TDFs is in 401(k) plans, it raises the question of whether DAA can be implemented as an alternative in those accounts. If you have access to a "brokerage window" via your retirement plan, it probably can. However, in some cases, such investors are prevented from investing in exchange-traded funds (ETFs), which are used exclusively in DAA. Still, with a little extra effort, you should be able to come close to replicating DAA with traditional mutual funds.
Even 401(k) investors without access to a brokerage window may be able to implement DAA. For example, one SMI member recently sent a list of the 30 mutual funds he has access to in his workplace plan. After entering all of the funds into the Personal Portfolio Tracker, along with the six ETFs used in DAA, it showed that he has access to funds that match up well with five of the six DAA choices. If DAA ever called for the use of the one asset class where this reader doesn't have a good match, he could use his workplace plan to invest in two of the recommended DAA-like funds and invest in the third (the one for which he has no close substitute) using his IRA.
Obviously, the DAA path isn't as easy as plopping your money into a target-date fund. However, if you are using a target-date fund in your workplace plan, this may be a good time to at least familiarize yourself with its current stock allocation along with its timetable for reducing risk by shifting money into safer fixed-income investments. Make sure you're comfortable with the fund's allocation strategy. This may also be a good time to explore how easily DAA could be implemented in your workplace plan.