Charitable giving in the U.S. notched a new record last year, up 2.7 percent over 2015, according to a new report from Giving USA and the Indiana University Lilly Family School of Philanthropy.
Overall giving topped $390 billion, with the bulk of that (72 percent) being from individuals and the rest from foundations, corporations, and bequests.
About one-third of all giving went to religious organizations, making religion the top giving category, with just under $123 billion donated last year.
This infographic shows the report's major findings (click to enlarge):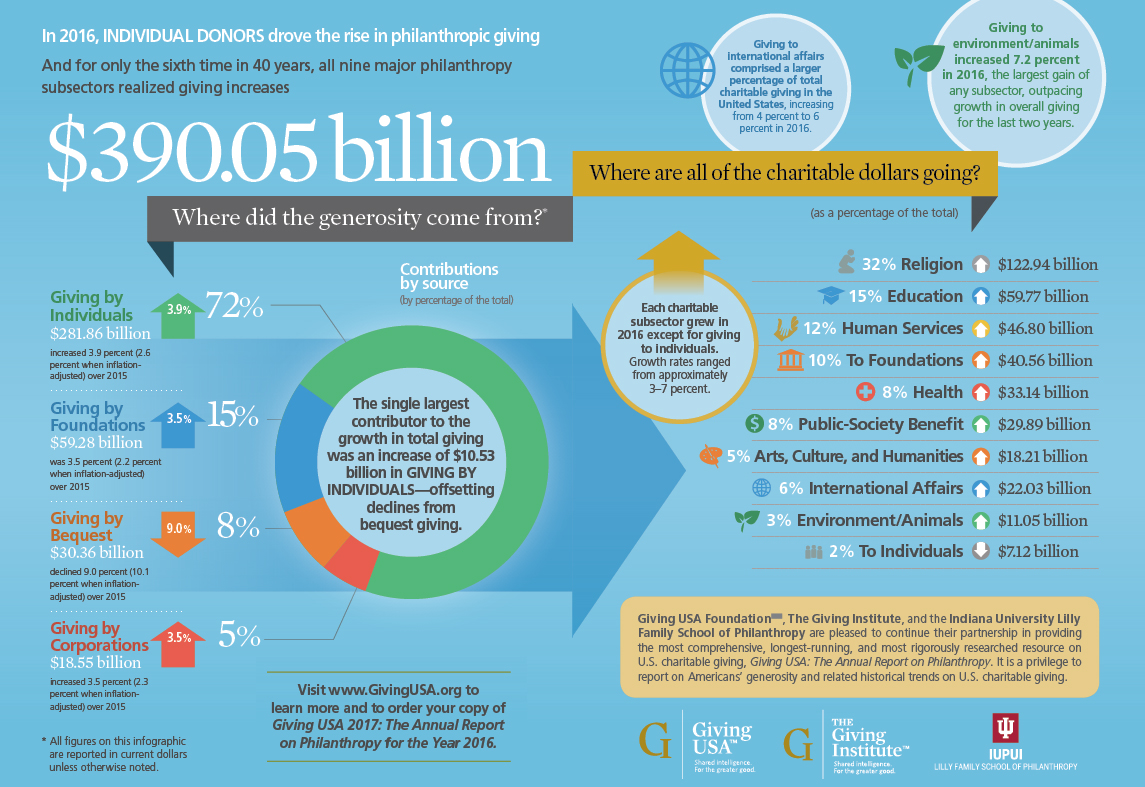 Although giving to "religion" does remain the top category — with no other category even a close second — religion's share has been declining, falling from 43 percent of overall donations 20 years ago to the current 32 percent.
(Unfortunately, the Giving USA survey doesn't capture data about the level of contributions to other areas — such as education and healthcare — that are motivated by religious commitments. If you make donations to a Christian-based school, for example, Giving USA considers that to be "education" giving not "religion" giving, even though you may support the school because of its reputation for strengthening young people in the faith.)
As a bit of an information geek, I find charts and graphs such as the one above fascinating. But Christian giving is about so much more than percentages and dollar amounts! It's an affair of the heart (2 Cor. 9:7-8). Our giving, along with the tenor of our overall money management, are key indicators of our commitment to Jesus Christ (Luke 16:11). That's why once a year — in July — the SMI newsletter focuses on the topic of generosity (we're working on that issue of the newsletter right now).
So how is your personal "giving report"? What would your giving look like if represented on an infographic? Are you growing in generosity year after year?
We certainly hope so. And we're here to encourage you in that direction, not only with our upcoming July issue but in the daily pursuit of our mission and vision.
He who gives the seed to the sower and turns that seed into bread to eat, will give you the seed of generosity to sow, and, for harvest, the satisfying bread of good deeds well done.

The more you are enriched by God the more scope there will be for generous giving, and your gifts...will mean that many will thank God (2 Cor. 9:10-11 Phillips).