The financial markets continued their uninterrupted march higher throughout the third quarter, with both stocks and bonds adding healthy gains. Foreign markets were again the strongest performers, but domestic stocks also were strong across all of SMI's risk categories.
The S&P 500 total-return index has now had 11 consecutive winning months (Nov-Sept). That's quite rare, happening for only the second time in the past four decades. As we have noted previously, this is also just the sixth time since 1950 that more than a year has passed without at least a 5% pull-back for the S&P 500 index. This lack of volatility has been highly unusual by historical standards.
Sustained trends like this are great for SMI's trend-following strategies, so it's no surprise they posted excellent performance during the third quarter and sport compelling year-to-date numbers as well. While market storm clouds may be rumbling in the distance, the third quarter was a reminder that cashing out of a richly-valued market while it is still rallying can mean leaving considerable gains on the table.
Just-the-Basics (JtB) & Stock Upgrading
Just-the-Basics rode strong foreign- and smaller-stock performance to a +5.0% gain for the quarter, finishing ahead of the U.S. market's +4.6% gain (as measured by the Wilshire 5000, the broadest U.S. market index). Stock Upgrading performed even better, gaining +5.7%.
On a year-to-date basis, Upgrading pulled into a slight lead over the market, +13.8% vs +13.7%. JtB is the leader among SMI's broadly diversified strategies so far in 2017, having gained +15.0%. It's been a great year to be invested in stocks!
Bond Upgrading
The Federal Reserve held short-term interest rates steady during the third quarter, and longer-term rates remained quiet as well. This led to muted, though positive, returns for most bond investors. The Barclay's U.S. Bond Index gained +3.1% year-to-date, with Bond Upgrading trailing slightly at +2.4%. However, if we go back one more quarter to take in a full year (and include the bond market volatility that occurred immediately following last year's election), Bond Upgrading leads the index by a +0.8% to +0.1% margin.
While the third quarter was quiet for bonds, the fourth quarter may provide some interesting developments. Not only is the Fed expected to raise interest rates one more time this year, it also will begin the process of reducing its balance sheet by letting bonds expire as they mature. In recent years, when a bond owned by the Fed matured, it rolled that money into a new bond, but the Fed is gradually shifting away from this. As with all of the Fed's Quantitative Easing policies, this is uncharted territory, so no one knows how the markets will respond. That said, there's little reason to expect any dramatic immediate impact.
Dynamic Asset Allocation (DAA)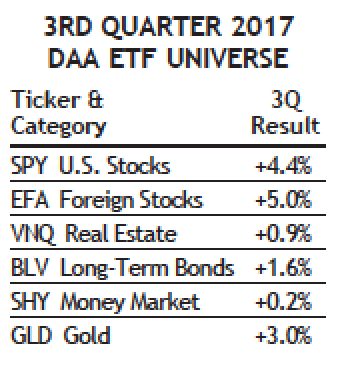 DAA posted another solid quarter, with a +3.0% gain. While that's less than the market's +4.6% gain, it's important to remember that DAA invests a maximum of two-thirds of its portfolio in stocks. That almost always will result in DAA trailing during strong market rallies. In that context, we're thrilled with DAA's +11.1% gain through the first nine months of 2017, despite the broad stock market being up +13.7%. When DAA hangs that close during rising markets, we know its returns will quickly catch up to the market once the next bear market shifts the playing field in DAA's favor.
As Austin detailed last month in A Strategy for Minimizing Your Losses During the Next Bear Market, being insulated against the potential of a market decline is crucial at this point in the stock-market cycle. It's hard to imagine that the next bear market may be looming when stocks have risen uninterrupted for so long. But we know markets are cyclical, and unfortunately the strong gains of recent years don't make stocks less risky; they become more vulnerable the further valuations get stretched.
Sector Rotation (SR)
We've run out of superlatives to describe SR's superior performance. Up a stunning +19.6% in the third quarter, it now sports a 2017 year-to-date return of +36.1%. Are those facts more or less amazing than the fact that SR is up +28.2% annualized over the past five years? We'll let you be the judge.
SMI launched SR as a live strategy nearly 14 years ago in November of 2003. Since then, SR investors have enjoyed annualized gains of +16.4% per year. That dwarfs the market's +9.0% rate of return over the same period. But to really grasp the significance of those annualized numbers, it helps to translate them into actual dollars. A $25,000 initial investment that earned the market's rate of return would have grown to a healthy $83,405 over those nearly 14 years. But that same investment made in SR would have grown to $207,899 — two-and-a-half times as much!
Compounding a high rate of return over an extended period like that can yield awesome results. Best of all, those aren't hypothetical numbers — many SMI members have actually earned them, having started with SR when it was first rolled out. The question is whether your portfolio is positioned to take advantage of this type of compounding in the future? If not, consider allocating a portion of your portfolio to SMI's high-risk, high-reward Sector Rotation strategy.
50/40/10
This portfolio refers to the specific blend of SMI strategies—50% DAA, 40% Upgrading, 10% Sector Rotation — detailed in our May 2014 cover article, Higher Returns With Less Risk: The Best Combinations of SMI's Most Popular Strategies. It's a great example of the type of diversified portfolio we encourage most SMI readers to consider. (Blending multiple strategies adds complexity. Some members might want to use an automated approach.) While the markets have been unusually calm so far in 2017, history vividly illustrates that the stock market can shift suddenly from rewarding those who take greater risks to punishing them, so a blend of higher-risk and lower-risk strategies can help smooth your long-term path.
Given the success of the three individual component strategies during the third quarter, it's no surprise that a 50/40/10 portfolio outperformed the broad market, +5.8% to +4.6%. On a year-to-date basis, 50/40/10 is beating the market +14.7% to +13.7% — while also providing significant downside risk protection. Gathering a large percentage of the market's gains during rising markets while avoiding even a portion of its losses during falling markets is a recipe not only for superior long-term returns, but provides the type of emotional stability that is so important to sustained investing success.