When investors look back on 2016 a few years from now, they'll see solid investment returns from most asset classes. But as is often the case, the story of the trying year that produced those gains will largely be forgotten.
Last year began with a sharp six-week stock-market correction that quickly drove stocks down 12%. Coming so quickly on the heels of another 10%+ correction just a few months earlier, fear was high, with many believing the long bull market had either ended or was about to. But they were wrong — a spirited rally soon carried the market to a new all-time high.
The gloom would return soon though, as British voters shocked the world in June by voting to leave the European Union. In the days immediately following the surprise results, stocks fell enough that they showed year-to-date losses with 2016 nearly half over. But once again, stocks rebounded in surprisingly sharp fashion.
After a brief respite, the U.S. election (among other factors) began to weigh on investors' minds. By November 4, just days ahead of the election, the S&P 500 index stood only 2% higher than it had begun the year. But from that point forward, stocks were off to the races, rocketing to new highs to close out 2016 and generating impressive overall gains for the year.
Unfortunately, for trend-following strategies like the ones we use at SMI, this down-up-down-up-down-up pattern — with each move measured in mere weeks — is the worst possible environment. In fact, if this were the market's normal historical pattern, trend-following strategies wouldn't exist. Yet despite the unfavorable market environment, several of SMI's strategies were able to post new all-time highs along with the market in 2016. This is a good reminder that the most profitable path for SMI readers has almost always been to tune out the noise and stick with their long-term plans.
Just-the-Basics (JtB) & Stock Upgrading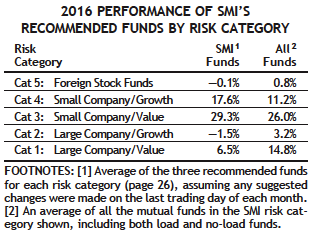 Both JtB and Stock Upgrading managed solid double-digit returns in 2016, helping investors in those strategies reach new all-time portfolio highs. Both trailed the Wilshire 5000, the domestic stock index we use as their benchmark. This isn't surprising, given the 20% allocation both strategies give to foreign stocks. The MSCI-EAFE, which is the most commonly referenced foreign stock index, gained only 1% in 2016, well below the gains of U.S. stocks.
While our foreign allocation hurt our results, our higher-than-market-weight allocations to smaller stocks helped. In fact, JtB's domestic holdings outperformed the U.S. market. And Stock Upgrading, despite the stop-start nature of the stock market that created an unusually challenging environment, would have nearly matched the Wilshire 5000 were it not for its foreign holdings.
Bond Upgrading
Stocks weren't the only asset class strongly impacted by November's surprise election results.
Bond yields spiked higher following the Trump victory (though they've receded some in early 2017). The prospect of tax cuts and a more business-friendly environment spurring greater economic growth, coupled with increased borrowing for infrastructure spending, caused lenders to start thinking about future inflation for the first time in quite a while. The benchmark 10-year Treasury yield rose from +1.88% on election day to a high of +2.60% in mid-December. And, as always, as those bond yields rose, bond prices declined.
Thankfully, SMI's Bond Upgrading strategy didn't suffer much in the way of late-year losses. In fact, for the year as a whole, Bond Upgrading's gain of +3.6% was considerably better than the +2.5% gain of the Barclay's U.S. Aggregate Bond Index.
That result should bring some comfort to investors who have been concerned about rising interest rates. Despite interest rates climbing slightly in 2016 (the 10-year Treasury started 2016 at +2.24% and ended at +2.45%), Bond Upgrading still delivered decent returns. There's considerable research to support the idea that the best predictor of future bond returns is current bond yields. While that isn't especially encouraging given today's low yields, 2016 provides some hope that SMI's Bond Upgrading process may be able to improve slightly on that outcome.
Dynamic Asset Allocation (DAA)
There's no way to sugarcoat the fact that DAA's 2016 performance, a loss of -0.5%, was disappointing. In 2015, DAA lost money, but the stock market itself was only barely positive that year. But last year there was money to be made in the asset classes DAA follows, yet the strategy's timing triggers kept that from happening. That stings.
Unfortunately, that happens sometimes when following a mechanical system. Sometimes events arrive in a particular order and interval that gives a system trouble. That was the case for DAA in 2016, as every time it adjusted to the latest trend, the trends would abruptly reverse. Again, down-up-down-up-down-up isn't a normal pattern for the stock market — thankfully.
That said, it's crucial to maintain perspective about DAA's value within your portfolio at this late stage of the current bull market. It's not unusual for DAA to trail the market by a considerable margin late in bull markets. It's also not unusual for DAA to make up all of that gap — and then some — in the subsequent bear market. Make no mistake, eventually a bear market will follow this long bull market. And our back-testing has been absolutely clear about the portfolio-saving protection DAA has provided during past bear markets.
To make this a bit more tangible, consider the impact of a -40% bear-market loss on a portfolio that has earned the market's return over the past four years, versus its impact on a DAA portfolio. From 2013 when DAA was introduced through 2016, the market portfolio has a huge lead. But if DAA limited its bear-market loss to only -8% while the market fell -40%, the gains since 2013 for the DAA portfolio would be +12% compared to +2.8% for the market portfolio. All of the relative superiority for the market portfolio over the DAA portfolio going back to DAA's launch would be quickly reversed. (And this example assumes a loss for DAA, which hasn't happened in past bear markets, but we're trying to be conservative in the illustration.)
Some have questioned the DAA's "winning by not losing" tagline, given that DAA has produced small losses the past two years. But it's really not small annual losses that DAA is designed to avoid. Rather, it's the large, course-altering losses that happen to stock investors during bear markets. It's by deftly avoiding those that DAA has been able to win by not losing. DAA's performance relative to the stock market (and other stock investment strategies) has soared during past bear markets, and there's no reason to think next time will be any different.
Sector Rotation (SR)
For the fourth time in the past five years, SR posted a return in excess of +15% and beat the market handily. After gaining +16.8% in 2016, SR's 5-year average annualized return now stands at +26.4%. That means $10,000 invested in SR at the beginning of 2012 would have been worth $32,265 at the end of 2016! SR's 10- and 15-year annualized returns are each hovering around +15%, periods during which the broad stock market has returned less than half that. SR's simplicity and consistency continue to amaze, as they have since SMI introduced this strategy way back in 2003.
50/40/10
This portfolio refers to the specific blend of SMI strategies — 50% DAA, 40% Upgrading, 10% Sector Rotation — examined in detail in our May 2014 cover article, Higher Returns With Less Risk: The Best Combinations of SMI's Most Popular Strategies. It's a great example of the type of diversified portfolio we encourage most SMI readers to consider. The markets can shift suddenly between rewarding risk-taking and punishing it, so a blend of higher-risk and lower-risk strategies can help smooth your long-term path and promote the type of emotional stability that is so important to sustained investing success.
With DAA suffering through a subpar year, the overall return of a 50-40-10 portfolio was +5.6%. That's not great, but looks a little better in light of the fact that a 50-40-10 portfolio held considerable insurance against downside risk throughout the year.
Whether you're using this specific 50/40/10 blend or a different allocation combination tailored to your specific risk preferences, we think most SMI readers can benefit from combining these strategies in some fashion.

(Click chart to enlarge) If you are an existing member, please Login.