A friend of mine died 15 years ago today — July 4, 2003: Larry Burkett.
From the mid-1970s until his death nearly 30 years later, Larry was the nation's premier teacher on the topic of Christian financial discipleship. Christianity Today once noted that his many books and other resources "were largely responsible for creating 'money' and 'finance' sections in Christian bookstores."
But Larry's impact was more far-reaching than that. In 1977, only a year after starting his nonprofit ministry called Christian Financial Concepts (later named Crown Financial Ministries), Larry helped launch the Fellowship of Companies for Christ International, now the world's largest peer-to-peer marketplace ministry.
In the early 1980s, he was one of the co-founders of the National Christian Foundation. Today, NCF is the eighth largest nonprofit in the United States and has made $9 billion in donor-recommended grants to more than 55,000 charities.
As long-time SMI members know, Sound Mind Investing would not have come into being without Larry's vision and encouragement! (In our just-released July issue, we've re-published an insightful article by Larry that appeared in SMI's premier issue in the summer of 1990.)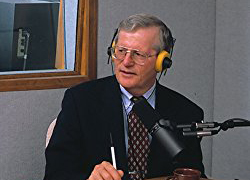 And in 1994, Larry was instrumental in founding — along with Bill Bright, James Dobson, and others — the legal-defense group Alliance Defending Freedom. ADF has argued and won many important religious-liberty and free-speech cases, including two recently at U.S. Supreme Court: Masterpiece Cakeshop v. Colorado Civil Rights Commission and a case striking down a California law that would have forced pro-life pregnancy centers to advertise for abortion. (In a tweet last Tuesday, a professor at the University of Nebraska College of Law called ADF "a national treasure," saying that its "faithful advocacy of Free Speech and Religious Liberty is a precious gift to the American Republic.")
Remarkably, Larry Burkett didn't give his life to Jesus Christ until he was 33 years old. From that point onward, he poured his heart and soul into serving his Lord faithfully. Today, millions — not only in the U.S. but around the world — benefit from the Christ-honoring fruit of Larry's life and ministry.
---
I had the privilege and pleasure of working with Larry Burkett for nearly 13 years — as a writer/researcher and as the executive producer of his radio programs Money Matters and How to Manage Your Money.
The man you heard on the air was the same man I knew off the air: a man of grace, truth, love, and compassion.
A few months ago, an SMI member wrote to ask if recordings of Larry's radio broadcasts were still available (Larry was on the air daily from about 1980 until shortly before his death in 2003). Regrettably, most of that broadcast material no longer exists, but Crown Financial Ministries occasionally airs something from the archives.
Here is a piece that aired about a year ago, excerpted from a presentation Larry gave in the late 1970s or early 80s.
Also, Moody Audio has recordings of Larry's presentations at various Moody Bible Institute conferences over the years. You can listen to four-minute excerpts from each presentation at this website and get information about how to purchase audio downloads or CDs.