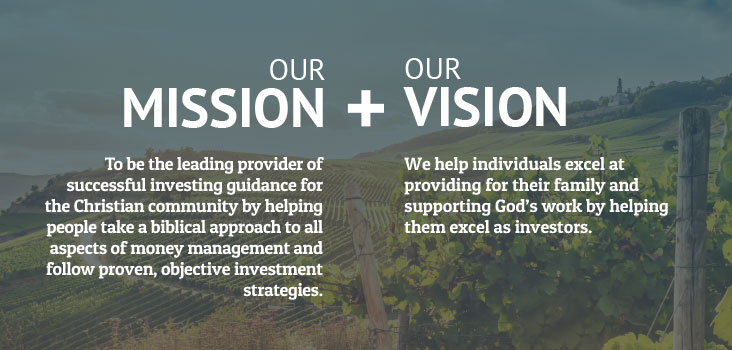 Purpose

We help individuals invest successfully and apply biblical principles to all aspects
of their financial life so they will experience the joy of providing well for their family
(1 Timothy 5:8) and generously supporting God's work (2 Corinthians 8:7).
In other words, we help people manage money well so they can truly live well.
We want you to have more so you can give more.
Mission

To be the leading provider of successful investing guidance for the Christian community
by helping people take a biblical approach to all aspects of money management
and follow proven, objective investment strategies.
Vision

To help individuals excel at providing for their family and supporting God's work
by helping them excel as investors.

Faith
Our Christian faith guides everything we do.
Objectivity
Our investment strategies and fund recommendations are based on mechanical, unbiased, time-tested processes.
Clarity
We tell you what you need to know, not everything there is to know.
Patience
We serve investors who take a long-term, proactive approach to investing rather than traders who make short-term, reactive decisions.
Confidence
We help you grow in knowledge about investing and in wisdom as to how and why to invest. This mix of knowledge and wisdom builds confidence.
Generosity
We aspire for our members to live the generous lives we were all designed to live and to model that way of living.